To get the best from your birding, you need the right kit, and there's a huge amount of choice with birdwatching binoculars for every budget.
We've considered all the important features when assembling this guide, including image clarity, weight, field of view, build quality and of course price. There's a pair for every budget here.
First things first though, you need to think about your level of experience and the type of birdwatching you do – the habitats and the behaviours of the birds you want to spot. All of these factors will influence the best specification for you.
We've covered this in our Guide to Bird Watching Binoculars, or you can jump straight to our selection of binoculars below. We've also got longer reviews of every product on this list if you want to read more.
Contents
What are the best binoculars for UK birdwatching?
Best bird watching binoculars for expert birders
Pros
• State-of-the-art optics
• Innovative ergonomics
• Outstanding build quality
Cons
• Relatively large
• Very expensive
If birding is a huge part of your life, these binoculars are a vital investment. The optics are as good as anything out there, the ergonomics are pretty much unmatched, and they come with the peace of mind provided by Swarovski's renowned customer service. There's a price for all that, but you need never buy another pair of binoculars again.
True to life colour, no chromatic aberration, excellent contrast and sharpness, and superb low-light performance, plus an outstanding 139m@1000m field of view – everything you'd expect from Swarovski. But what really makes these a step forward from the already-excellent ELs is the design. The balance is perfect, making them easy to hold steady in extended use, and they feel lighter than they are. The typically well-made accessories include a detachable forehead rest – it all adds up to binoculars that are a pleasure for the eyes and the hands.
Best bird watching binoculars for all-round wildlife-watchers
Pros
• Wide field of view
• Excellent close focus
• Fine all-round optics
• Light and compact
Cons
• Slightly smaller objective lens than standard
• Relatively expensive
Want premium quality binoculars, but at a considerably lower cost, and all in a lightweight, compact package? The SFL 8x40s are in something of a class of their own at the moment – you need to look at them if you're looking at making the step up to the sort of binoculars that might last you a lifetime.
Bright, natural, walk-in images, with next to no colour fringing, and an impressive field of view of 140m@1000m – performance here is very close to that of Zeiss's well-established but considerably more expensive SF 8x42s, but with several bonuses. Close focus is around 1.5m, for example, and they're also a whole 150g lighter, making for an exceptionally well-balanced and easy-to-use package. Potential game-changers for many birders.
Best bird watching binoculars for improvers
Pros
• Precise focussing
• Good low-light performance
• Solidly built
Cons
• Some colour-fringing
• Relatively large and heavy
If you're relatively new to birding and want to take a step up from entry-level binoculars, but can't stretch to the top end of the market, these may be just what you need. Well-built, user-friendly, and with impressive optics all-round, it'd be hard to find a better package for under £1000.
Solidly built all-round, and well-balanced enough to make extended use comfortable, these bins boast some outstanding features, not least the very smooth, precise focussing action which is a joy to use. The image produced is crisp and punchy, with excellent sharpness and brightness, and very good performance in low light, making them genuine contenders alongside optics twice the price.
Best mid-priced all-rounder bird watching binoculars
Pros
• Excellent optics all-round
• Very user-friendly design
• Good value
Cons
• Rather cramped field of view
• Some softness at edge of image
If you're ready to move on from your beginners' bins, but don't want to break the bank, US manufacturers Bushnell offer some excellent options. Very solidly built and reliable, and with impressive optical performance, the Forge range are fine all-round performers.
A user-friendly open bridge design, and some well-thought-out details (such as a wide, well-ridged focus wheel), make these a pleasure to handle, and the optics don't disappoint, offering a crisp, bright, natural image. The extra magnification does come at the expense of field of view, but the range also includes 8x42s, which should mitigate that considerably.
Best bird watching binoculars for casual birders
Pros
• Very small and lightweight
• Bright and clean image
• Superb close focus
Cons
• Could be too small for some
• Some chromatic aberration
As glass quality continues to improve, smaller objective lenses become a realistic option even for all-round birding bins. These are a great example – they pack an impressive optical punch for a remarkably compact and light pair, making them perfect for taking along on a walk, bike ride, or similar.
Other than a little edge softness and occasional colour fringing, the optics provide very little to gripe about – the image produced is bright and sharp, and very wide, and superb close focus makes them perfect for bug-watching as well as birding. They cope well with low light conditions, too, so they're really fine all-rounders, and they're very affordable for binoculars made by one of the optics world's big names.
Best budget ED bird watching binoculars
Pros
• 'Walk-in' views
• Compact and light
• User-friendly design
Cons
• Pricier than original Frontier EDs
• One or two design quirks
ED glass (sometimes called HD) means a better view – brighter, sharper, and with significantly reduced chromatic aberration. But it costs extra, too, so to find a pair of bins that use it well to offer great all-round views, at under £500, is a red letter day, especially for the relative beginner.
These compact, light bins build on the good name that Hawke's original Frontier EDs won for themselves. The design is unfussy and thoroughly user-friendly, the optics perform well in all conditions and situations, and certain features (the wide, 'walk-in' view and the close focus), belong to more expensive binoculars. If you're looking for your first pair of ED bins, this would be a good place to start.
Best budget all-rounder bird watching binoculars
Pros
• Bright and sharp image
• Lots of eye relief
• Good close focus
Cons
• Needs care getting eye position right
• Focus wheel a little untextured
• Some colour fringing
For a little over £300, these are very good all-around binoculars, with excellent optics and an impressive design. In particular, they offer a good range of eye relief, which should suit glasses-wearers. Solidly built, but light and compact too.
These very solid all-round performers should appeal to absolute beginners, 'improvers', and experienced birders who want a second pair for the car, office or kitchen – they score highly on all fronts for such an inexpensive model. They're not perfect, but our main gripes were nothing that couldn't be sorted out by taking the time to set them up properly and get used to their design – once you've done that they're excellent for all-round birding and wildlife-watching.
Best budget bird watching binoculars
Pros
• Wide and sharp field of view
• Impressive low-light performance
• Good close focus
Cons
• Heavier than some
• Some colour fringing
• Focus wheel could be grippier
At times it's hard to believe that these bins are priced at well under £250 – they deliver really good views in all conditions, and have a solid, no-nonsense design and build. At this price, you can't really go wrong.
Pretty much the only thing I can find to criticise here is that Viking's own Peregrines don't cost that much more, so their better eye relief and lighter weight might attract your attention first. But taken alone, these are excellent, with a bright and sharp image that stays sharp to the edges and gives you full value for the excellent field of view. The straightforward design makes them a pleasure to use for long periods – perfect for birders of all levels of experience.
Best beginner bird watching binoculars
Pros
• Well-balanced and straightforward
• Excellent focus wheel
• Good close focus
Cons
• Some fall-off in low-light performance
• Field of view moderate
• Slightly stiff focus
If you're just starting out birding, you need something that does an all-around job unfussily and well, without making a huge hole in your pocket. These are hard to beat in that respect – even if you subsequently trade up, these make a really solid spare pair.
Remarkably good value – for around £150 you get a pair of binoculars that, optically, don't let you down in any situation, including in low light or when viewing bugs, and they're easy to get used to, with four eye positions (a lot for a budget pair). If you want to get started watching birds and wildlife quickly, you need to take a look at these.
Best ultra-compact bird watching binoculars
Pros
• Very small and light
• Excellent field of view
• Superb optics for the size
Cons
• Expensive
• Don't hang entirely comfortably
• Eye position needs care
Walkers, photographers and others who do their birding alongside another activity will be thrilled with these – they stash very easily in a jacket pocket, but optically they don't disappoint in any situation, as you'd expect with Swarovskis. Time to treat yourself?
The only real gripes here were those which apply to all ultra-compacts – it can take a while to get your eye position right, and they're quite hard to wear as comfortably as a full-size pair. But optically they're outstanding for their size, producing a bright, sharp and wide image even in poor light. Close focus is good, not great, but they can be used very easily with one hand, making them ideal for long days in the mountains.
How to choose binoculars for birdwatching
If most of your birding is at long range, or you regularly read bird rings, then extra magnification is useful, but remember that it restricts your field of view, and also exaggerates any shakes and wobbles.
If, on the other hand, you do a lot of birding in woodland, or at dawn and dusk, then light-gathering ability should be your priority. That can mean going for a larger objective lens (42mm and upwards), or investing in higher quality glass (look for the designation ED or HD), or both.
Important as the optics are, you should always consider size, weight, and ease of use, too – great images are of no use to you if you find the binoculars difficult or uncomfortable to use.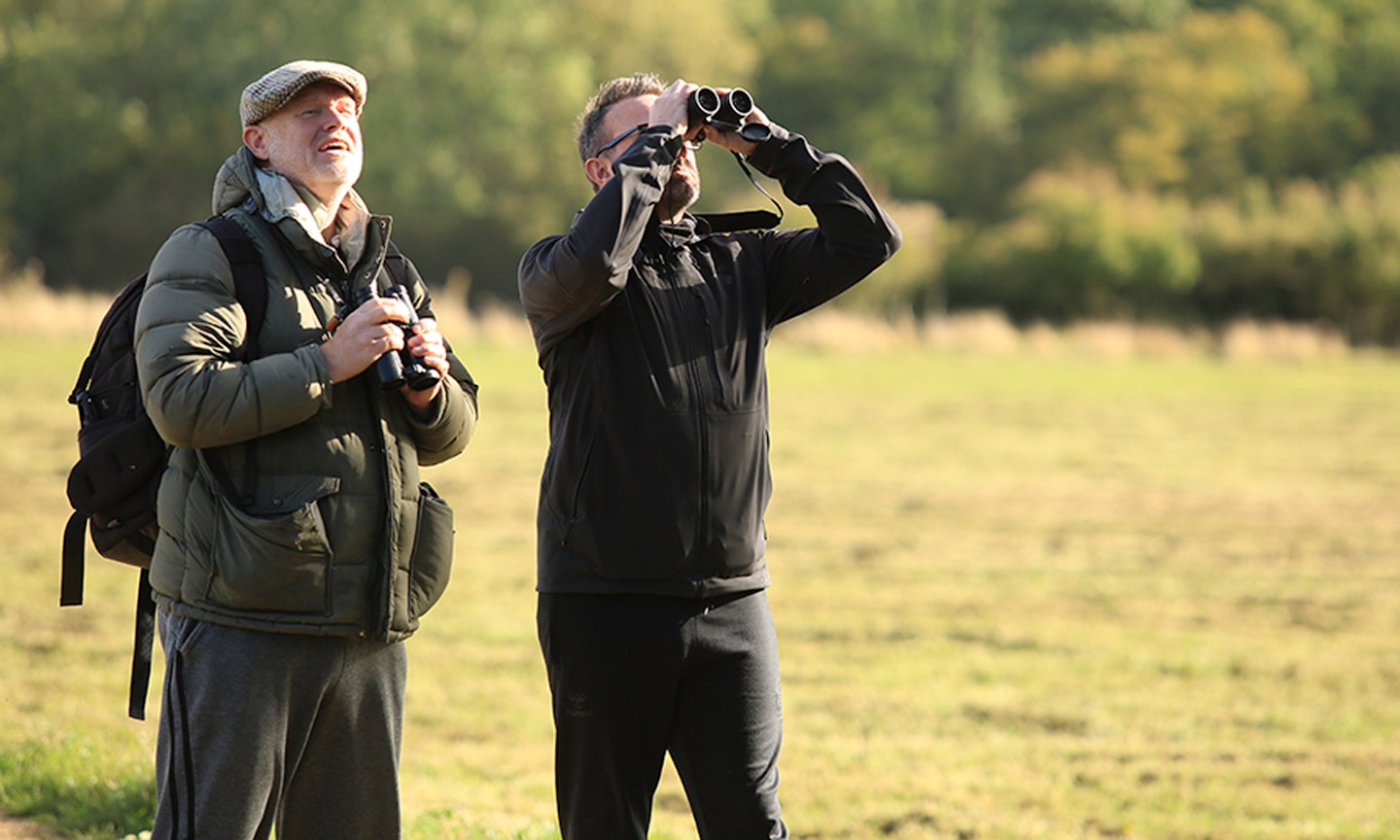 Sometimes this can be down to very personal factors, such as how well the eyecups sit against your eye sockets, so take the chance to try before you buy, if you can.
Finally, consider whether you'll be using the bins for bug-watching, too – if so, a close focus figure of below 2.5m is a big help.
Glossary
Magnification: 10x magnification will make your target appear 10 times closer, and so on – it's as simple as that.
Field of view: How wide the image appears, in terms of how many metres are visible at a point 1000m away. So, a field of view of 140m@1000m will take in a wider view than one of 120m@1000m.
Objective lens: The large lenses at the front of the binoculars – a larger lens means more light, a brighter image, and better low-light performance, but will be heavier.
Close focus figure: This is the closest you can get the binoculars to focus – anything under 2.5m is good and makes the bins useful for bug-watching. Note that most bins perform a little better than their quoted figure in this respect.
Image stabilisation (IS): This is where the image is electronically steadied and can be useful when birding by boat, etc., but in general IS binoculars produce an inferior image.
Chromatic aberration: Also called colour-fringing, this is a coloured halo that appears around dark objects, especially against bright light. Higher quality glass eliminates this.
Frequently asked questions
What does 10x42 or 8x42 mean?
The first figure is the magnification provided, the second is the diameter of the objective lens in millimetres.
What's the best magnification for birdwatching binoculars?
The default size for birdwatching bins has been 8x42 for some time but carefully consider all sizes. Better quality glass, for example, even at the budget end of the market, has made smaller objective lenses increasingly effective.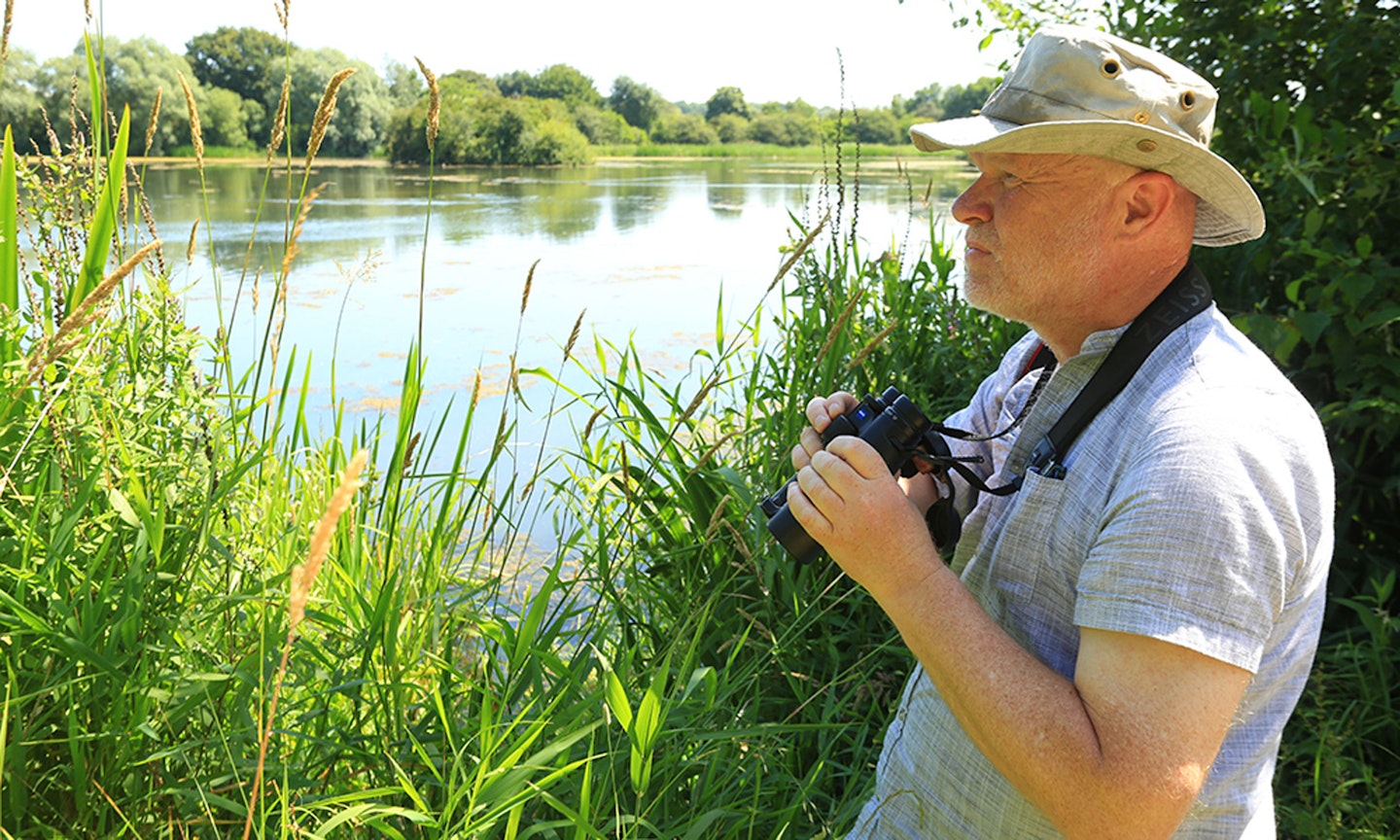 Surely a bigger lens and higher magnification are better?
Not necessarily – higher magnifications exaggerate even small movements of your hands, and bigger objective lenses make bins heavier and harder to hold steady. So, most birders opt for a happy medium.
Can I mount my binoculars on a tripod?
Some binoculars, especially larger sizes, have a tripod mounting, but it is far from standard.
Are binoculars waterproof?
Check individual models carefully – high-quality binoculars are generally fully waterproof, but some budget models are only fogproof. Even they, though, can withstand wet weather – it's just total immersion you should avoid.
Can I use my binoculars for astronomy?
Yes! The moons of Jupiter, or the rings of Saturn, for example, can both be seen with 8x42 binoculars on a clear night.
Which is better for birdwatching – porro prism or compact roof prism?
Porro prisms look old-fashioned, but actually offer slightly better optical performance than an equivalent pair of roof prisms. But the latter will be considerably smaller and lighter, so are generally preferred by birders.
BECOME A BIRD WATCHING MEMBER for instant access to the latest Bird Watching and receive every new issue on your smart phone or tablet to listen to or read from as little as 99p.