The Monarch M7+ was launched in March and is only available from London Camera Exchange, RSPB shops and Nikon e-commerce. It's a step up from the Monarch M7 but shaves £400 off the Monarch HG price tag. If you're looking for a mid-range 8x30/32 should this be on your shortlist?
How different is it from the M7? It has a little bit more eye-relief, weighs 10g more, and costs £90 more. The big difference is that it has the field flattener lens system used in the HG. Field flatteners correct field curvature to improve edge sharpness. The key differences between the M7+ and the HG are that the latter is Japanese-made (the M7+ is made in China), 25g lighter (it has a magnesium alloy chassis as opposed to fibreglass-reinforced polycarbonate resin on the M7+), and has scratch-resistant coating on the lenses – on the M7+ it's oil- and water-repellent.
Verdict - This binocular is small and light. The build quality is very good, the view is very wide and very sharp, brightness is good, chromatic aberration is not an issue and the close-focus is remarkable. If you want a mid-range, mid-size 8x binocular put it on your shortlist - that's why it's on our Best Binoculars for Birdwatching round-up.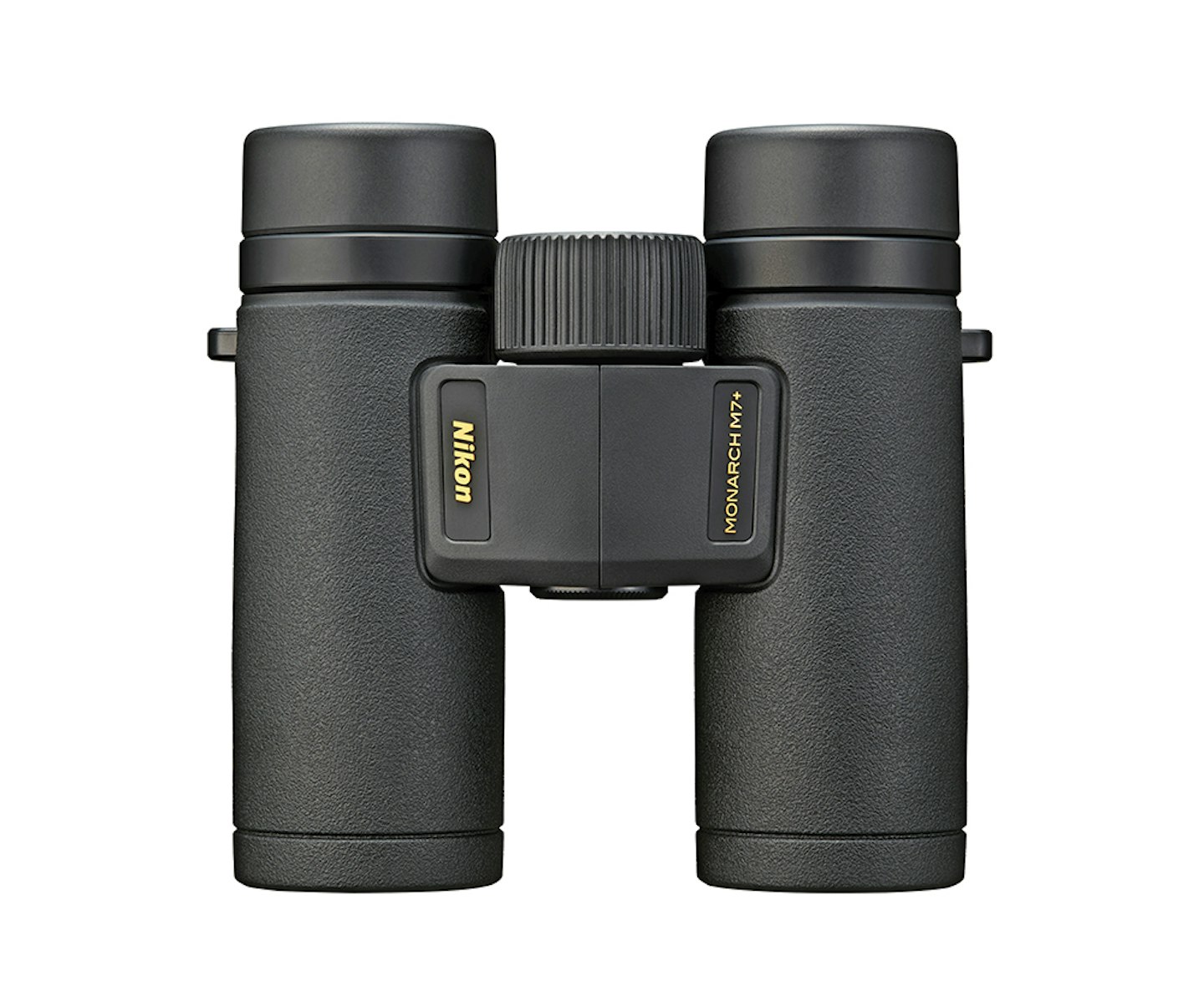 Factfile
Eye relief: 16mm
Field of view: 8.3°/145m@1000m
Close focus: 2m (quoted)
Weight: 475g
Length x width x depth: 119x125x48mm
Warranty:  10yr
Supplied with: Case, neoprene strap, objective covers, rainguard.
Nikon Monarch M7+ 8x30 Binoculars review
This is a small and lightweight binocular – it only weighs 475g. I like that, but I know people with larger hands (mine aren't small) might find it too small. The build quality is very good. It's rubber-armoured, waterproof and 'fog-free'. I found it good to hold – holding the eyecups against my brow ridge helped me get the best results. The rubber-coated eyecups have good 'mechanics' and two intermediate positions.
I used them fully extended and they stayed in position. 16mm of eye-relief should be enough for glasses wearers – check this yourself though.  The dioptre ring sits under the right eyecup – push it up to unlock, twist to adjust, pull down to lock. The focussing wheel is a single finger wide and turns smoothly with moderate resistance. There's just over one revolution of focus-movement most of which you won't use when birding – 1/8 turn covers most birdwatching scenarios when gentle touches will be all you need to focus. Focus-precision is very good.
The rainguard fits well – not too loose or tight, and the tethered objective covers can be removed if not to your liking. I'd say the 'full-width' supplied strap is too big for a binocular of this size and weight – something half the width would do the job and reduce the packed bulk. You can change the strap of course.
Through the barrels
There's not much to gripe about so far but what about the view? It's wide and clean with good colours. There was some vignetting (dark edge shadows) when I scanned, but I don't think that's a big deal, and occasional flare/reflections.  Wide means wide – the field of view is an impressive 145m@1000m. Sharpness is very good with a smidgeon of peripheral softness perhaps – but nothing that distracts. Brightness is good and chromatic aberration (colour fringing) is very well corrected – the ED glass helps with that.
I used them during an evening Bittern survey on April 5th. It was a bright but more or less overcast evening. The Monarchs helped identify my first Swallow of the year 13 minutes after sunset and were differentiating distant shades of green over an hour after sunset. I didn't hear any booming, but I did see two in-flight Bitterns. Nikon say the close-focus is 2 metres, which is respectable enough. But for me at least, it's wrong. I could focus this binocular to just under 1.5 metres which is very, very good. Not many binoculars focus closer than that.
Ratings (out of 5)
Optics 4
Handling 4
Price 3.5
Overall 4