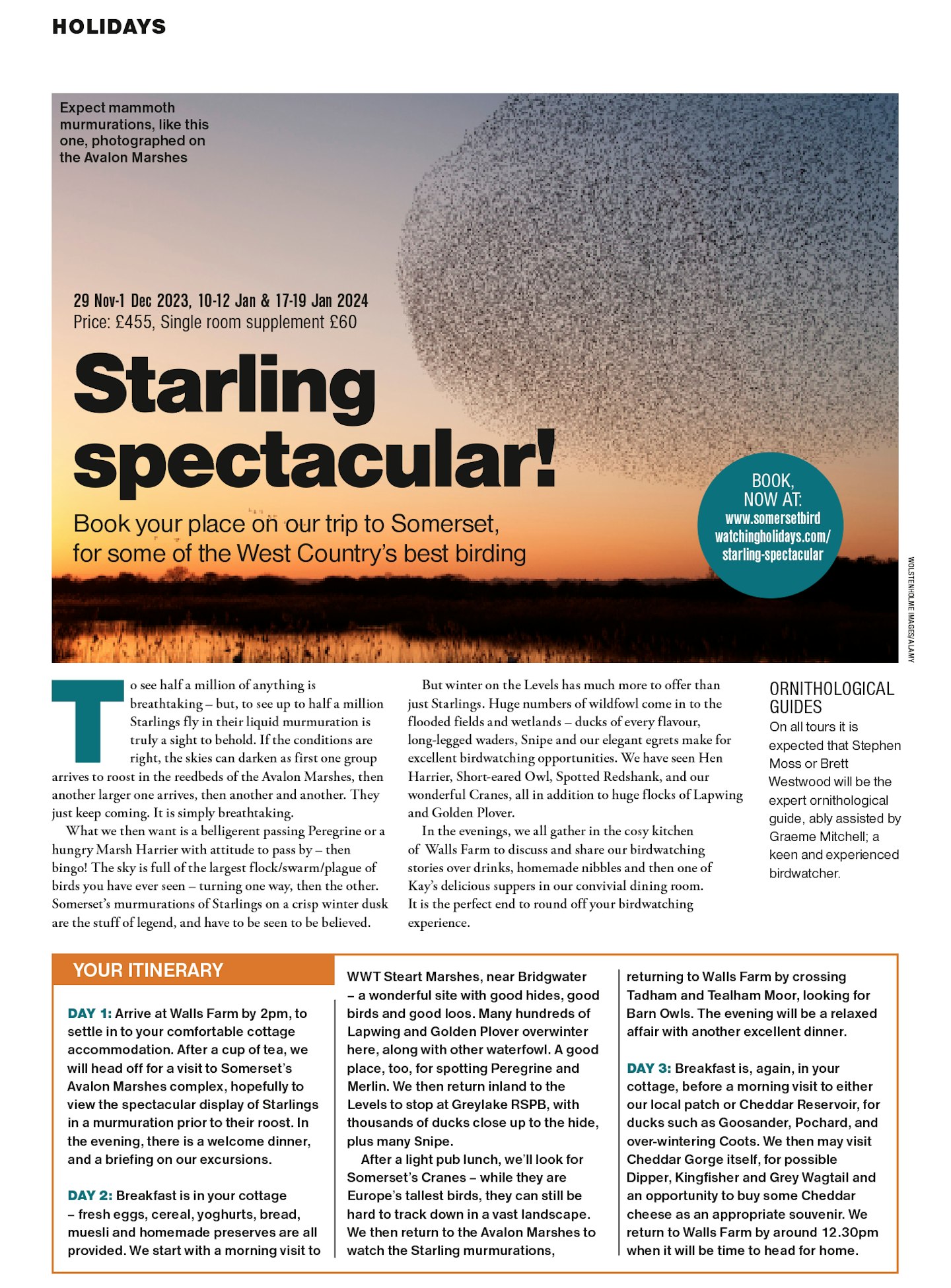 Starling spectaculars!
29 November to 1 December 2023,
10-12 January 2024,
17-19 January 2024
Price: £455, Single room supplement £60
ORNITHOLOGICAL GUIDES
On all tours it is expected that Stephen Moss or Brett Westwood will be the expert ornithological guide, ably assisted by Graeme Mitchell; a keen and experienced birdwatcher.
To see half a million of anything is breathtaking – but, to see up to half a million Starlings fly in their liquid murmuration is truly a sight to behold. If the conditions are right, the skies can darken as first one group arrives to roost in the reedbeds of the Avalon Marshes, then another larger one arrives, then another and another. They just keep coming. It is simply breathtaking.
What we then want is a belligerent passing Peregrine or a hungry Marsh Harrier with attitude to pass by – then bingo! The sky is full of the largest flock/swarm/plague of birds you have ever seen – turning one way, then the other. Somerset's murmurations of Starlings on a crisp winter dusk are the stuff of legend, and have to be seen to be believed.
But winter on the Levels has much more to offer than just Starlings. Huge numbers of wildfowl come in to the flooded fields and wetlands – ducks of every flavour, long-legged waders, Snipe and our elegant egrets make for excellent birdwatching opportunities. We have seen Hen Harrier, Short-eared Owl, Spotted Redshank, and our wonderful Cranes, all in addition to huge flocks of Lapwing and Golden Plover.
In the evenings, we all gather in the cosy kitchen of  Walls Farm to discuss and share our birdwatching stories over drinks, homemade nibbles and then one of Kay's delicious suppers in our convivial dining room. It is the perfect end to round off your birdwatching experience.
Itinerary
DAY 1: Arrive at Walls Farm by 2pm, to settle in to your comfortable cottage accommodation. After a cup of tea, we will head off for a visit to Somerset's Avalon Marshes complex, hopefully to view the spectacular display of Starlings in a murmuration prior to their roost. In the evening, there is a welcome dinner, and a briefing on our excursions.
DAY 2: Breakfast is in your cottage – fresh eggs, cereal, yoghurts, bread, muesli and homemade preserves are all provided. We start with a morning visit to WWT Steart Marshes, near Bridgwater – a wonderful site with good hides, good birds and good loos. Many hundreds of Lapwing and Golden Plover overwinter here, along with other waterfowl. A good place, too, for spotting Peregrine and Merlin. We then return inland to the Levels to stop at Greylake RSPB, with thousands of ducks close up to the hide, plus many Snipe.
After a light pub lunch, we'll look for Somerset's Cranes – while they are Europe's tallest birds, they can still be hard to track down in a vast landscape. We then return to the Avalon Marshes to watch the Starling murmurations, returning to Walls Farm by crossing Tadham and Tealham Moor, looking for Barn Owls. The evening will be a relaxed affair with another excellent dinner.
DAY 3: Breakfast is, again, in your cottage, before a morning visit to either our local patch or Cheddar Reservoir, for ducks such as Goosander, Pochard, and over-wintering Coots. We then may visit Cheddar Gorge itself, for possible Dipper, Kingfisher and Grey Wagtail and an opportunity to buy some Cheddar cheese as an appropriate souvenir. We return to Walls Farm by around 12.30pm when it will be time to head for home.