2-night packages – 11-13, 19-21, 26-28 January 2023, 2-4 February 2023 - £445.00, single room supplement £60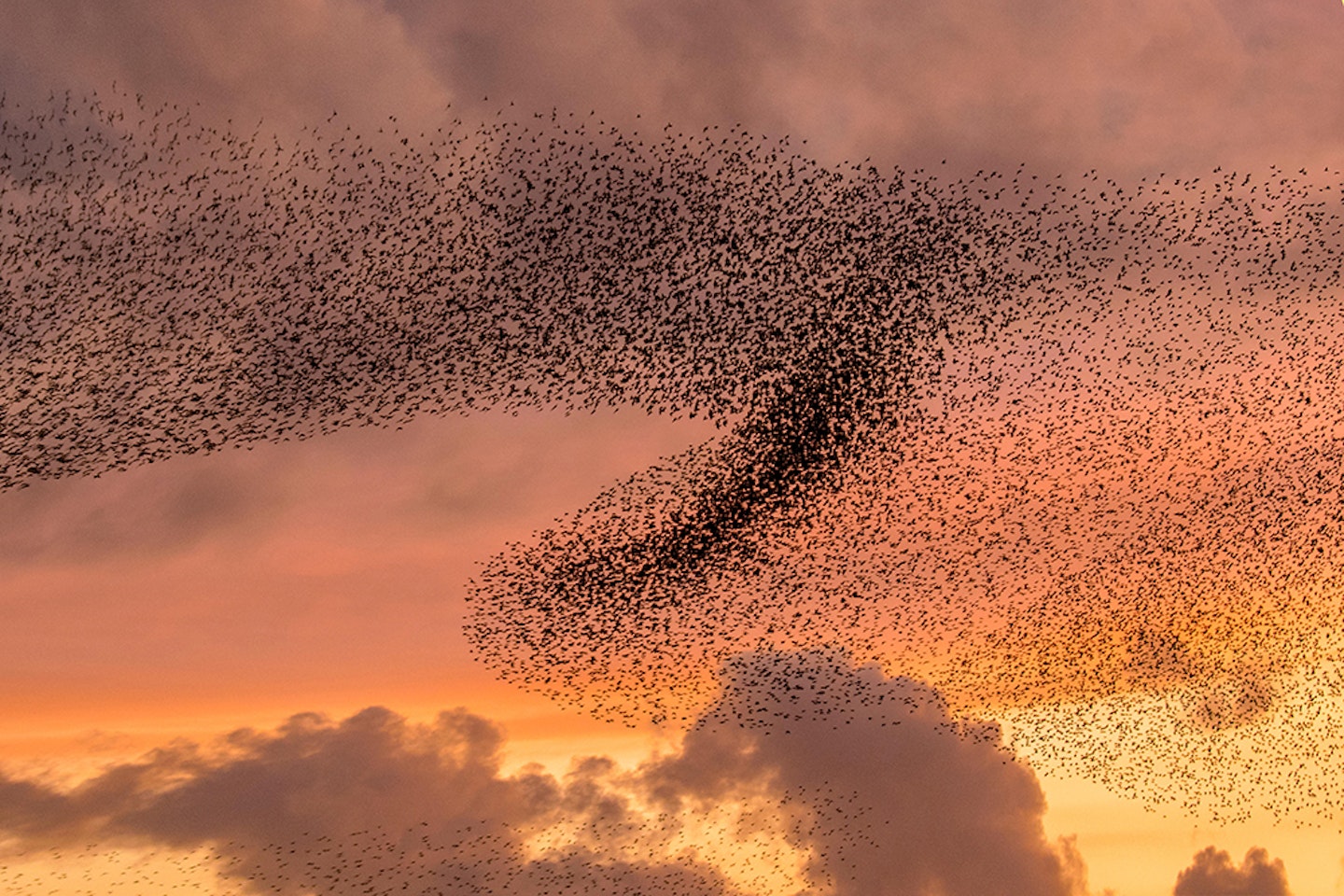 To see half a million of anything is breathtaking – however, to see up to half a million Starlings fly in their liquid murmuration is truly a sight to behold. If the conditions are right, the skies can darken as first one group arrives to roost in the reedbeds of the Avalon Marshes – then another larger one arrives, then another and another. They just keep coming. It is simply breathtaking.
What we then want is a belligerent passing Peregrine or a hungry Marsh Harrier with attitude to pass by – then bingo! The sky is full of the largest flock/swarm/plague of birds you have ever seen – turning one way, then the other. Somerset's murmurations of Starlings on a crisp winter dusk is the stuff of legend, and has to be seen to be believed.
However, winter on the Levels has much more to offer than just Starlings. Huge numbers of wildfowl come in to the flooded fields and wetlands - ducks of all sorts, waders such as Lapwing and Golden Plover, and elegant egrets make for excellent birdwatching opportunities, plus Hen Harrier, Short-eared Owl, and Cranes.
ITINERARY
DAY 1: Arrive at Walls Farm by 2pm settle into your comfortable cottage accommodation.
After a cup of tea, we will head off for an afternoon visit to Somerset's Avalon Marshes complex, hopefully to view the spectacular display of Starlings in a murmuration prior to their roost in the reedbeds. This is truly one of nature's most spectacular aerobatic displays, and if a passing raptor shows up it gets even more tasty. In the evening a Welcome Dinner including canapés and wine will be served in Walls Farm with your hosts Stephen, Graeme and Kay Mitchell. There will be good birding chat and you will be briefed further on our planned birdwatching excursions.
DAY 2: Breakfast is in your cottage – fresh eggs, cereal, yoghurts, bread, muesli, homemade preserves all provided in your accommodation for you to prepare. Morning visit to WWT Steart Marshes. This is a wonderful site with good hides, good birds and good loos. Many thousands of Lapwing and Golden Plover overwinter here along with many differing duck species. A good place too for spotting Peregrine and Merlin. We will continue to the coast at Wall Common to look for Curlew, Dunlin and other shore birds. We will then return inland to West Sedgemoor to look for our Somerset Cranes. Following a light pub lunch we'll stop at Greylake RSPB, always good in winter, with thousands of ducks close up to the hide with many Snipe and often godwits to be seen, and time permitting we may drop into the SWT reserve at Catcott Lows. Depending on our murmuration success the previous evening we may return for more Starling action, or alternatively visit one of the other bird reserves on the Levels. Return to Walls Farm by about 5.30pm by crossing Tealham and Tadham moors looking out for Barn Owls. The evening will be a relaxed affair with another excellent dinner and good conversation about birding adventures past, present and future.
DAY 3: Breakfast is in your cottage – fresh eggs, bread muesli, home-made preserves provided. In the morning we'll visit Cheddar Reservoir for ducks such as Goldeneye, Goosander, Pochard and a huge number of over-wintering Coots. We then may visit Cheddar Gorge itself for possible Dipper, Kingfisher and Grey Wagtail and an opportunity to purchase some genuine cheddar cheese as an appropriate souvenir of your visit to Somerset. Return to Walls Farm by around 12.30 when it will be time to depart and head for home (lunch not included).
ORNITHOLOGICAL GUIDES
On all tours it is expected that Stephen Moss will be the expert ornithological guide, ably assisted by Graeme Mitchell, a keen and experienced birdwatcher.
WHAT'S INCLUDED
Expert ornithological guiding throughout

Accommodation

Two delicious dinners with wine and canapes

Breakfast baskets

Teas/coffees and additional refreshments as stated on your confirmed itineraries

Entrance to all birdwatching sites
TO BOOK
Go to www.somersetbirdwatchingholidays.com/starling-spectacular
email info@somersetbirdwatchingholidays.com, or telephone 01934 712 831