What's inside our brand-new March 23 issue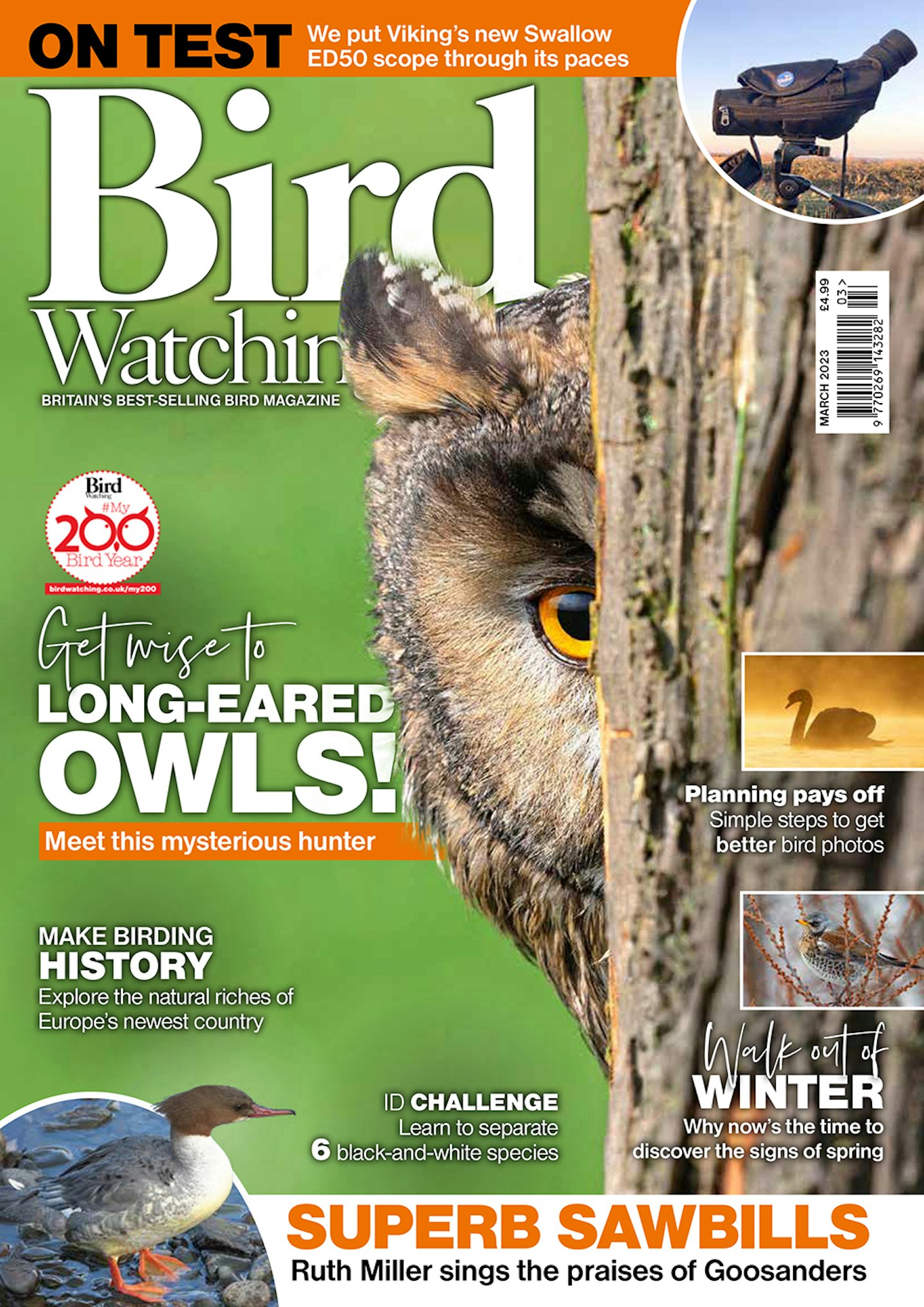 Winter walks
It's cold, damp and dark, and nature is hidden away. A lot of people will tell you it's a good idea to stay at home… Wrong!
Long-eared Owl
A tough bird to track down in the UK, Steve Wiltshire takes a look into the life of this majestic and mysterious raptor.
Goosander
Ruth Miller is captivated by this beautiful sawbill, and is keen to sing its praises.
Nest building
Dr Charles Deeming from the University of Lincoln is fascinated by birds' nests,and you will be, too, after reading this.
Sign up now to #My200BirdYear
The only person you're competing against in #My200BirdYear is yourself.
30-Minute Birder
The ever-excellent Amanda Tuke looks into ways you can improve your ID skills.
Your Birding Month
Birds to look out for, the best times for coastal birding, expert seasonal advice and much more.
Beyond Birdwatching
James Lowen is our expert on moths, bugs, plants… A pub-quiz genius!
ID Challenge
Think you know your black-and-white birds? Test yourself here – it's not easy.
Go Birding
Ten sites for brilliant birding whatever the time of year. Try one today.
Svalbard
Hop on board the 'Polar Express' for an unforgettable boat trip to the far north, where the wildlife is mind-blowing.
Kosovo
An undiscovered part of Eastern Europe that's packed full of interesting birds. Start planning your trip now!
Grant Arms Hotel
Join us for one of our legendary reader holidays in the Scottish Highlands.
The Urban Birder – Black Redstart
A proper urban bird, with a penchant for concrete and other man-made structures.
PLUS ALL YOUR FAVOURITE REGULARS...
Weedon's World, NewsWire, Grumpy Old Birder, Readers' letters, Q&As, Wishlist, Books.
Become a Bird Watching member. Full details here: https://members.birdwatching.co.uk?utm_source=dynamic&utm_medium=social&utm_campaign=bau_BWT&utm_content=content_BWT