Advances in optical technology in the last 10 years have made binoculars with smaller diameter objective lenses – especially 32mm – a much more attractive and realistic option for many birders. So how does the 32mm version of Swarovski Optik's new NL Pure range measure up?
I tried the 10x32s, and they make a very good initial impression. As with the larger models, I wasn't sure I'd like the move away from the open bridge design of the ELs, but Swarovski Optik designers know what they're doing. The new barrel design, carefully contoured to fit the shape of your hand, feels great, and combined with the rubber armour offers excellent grip.
They're very well balanced in the hand, meaning that they feel even less than their 640g weight.
Other aspects of their design do take some getting used to, if you're an EL user, at least. The focus wheel, for example, is further forward than you expect, but at just over a finger wide and heavily textured, it's easy to find and grip even with gloves on. It moves very smoothly and moderately stiffly, taking exactly two clockwise turns from close focus to infinity. Focus is easy to find, and to make minute adjustments to.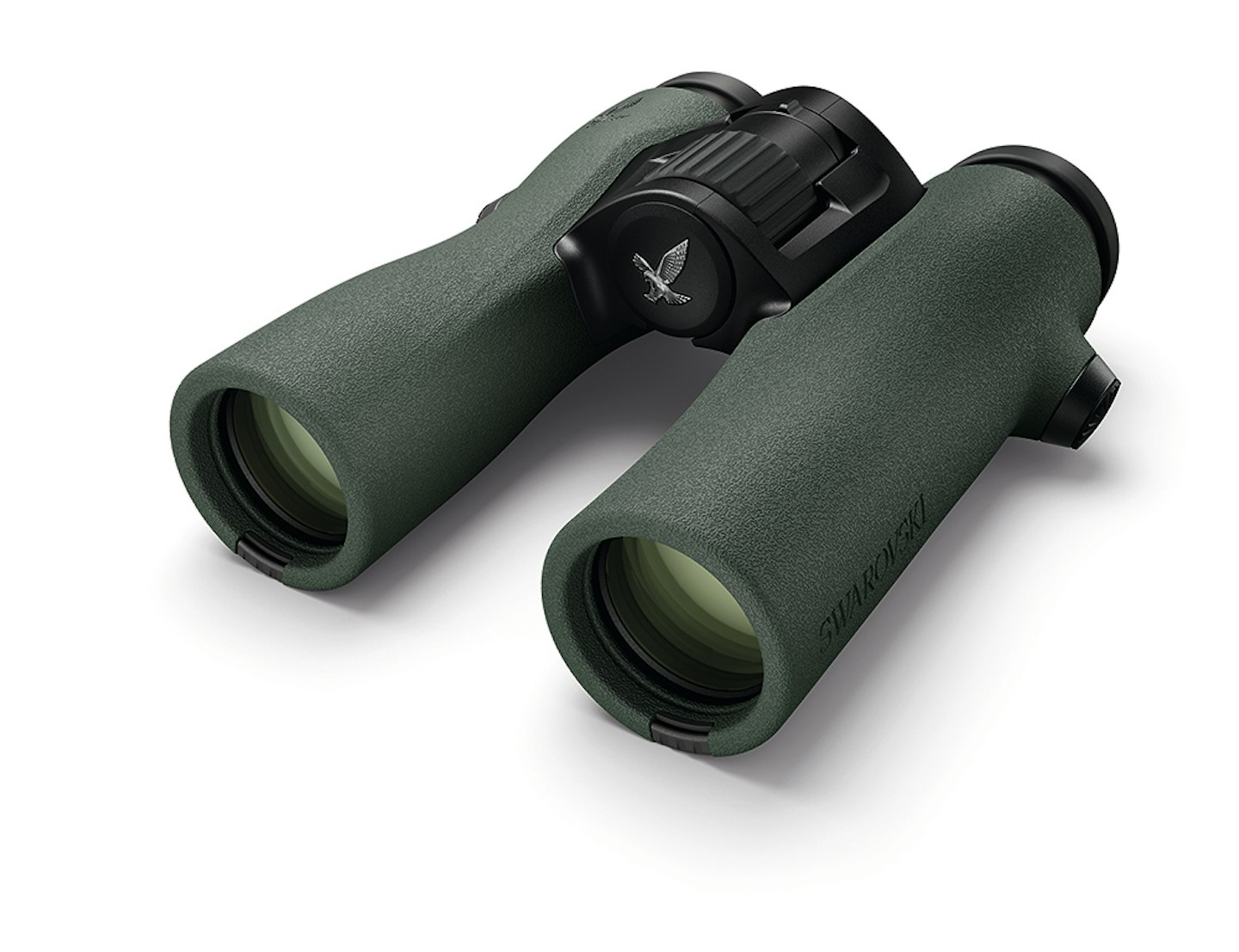 The dioptre adjustment is behind the focus wheel, and while it isn't lockable or click-stopped, it is clearly calibrated and pretty much impossible to knock out of place, accidentally.
Minimum close focus is quoted as 2m, and that seemed spot-on to me. It's not the shortest, but it's good, and will do the job for most needs.
The rubber-covered eyecups are very comfortable in extended use, and twist up and down to four distinct positions, which stay in place well in the field. They offer a maximum of 18mm of eye relief.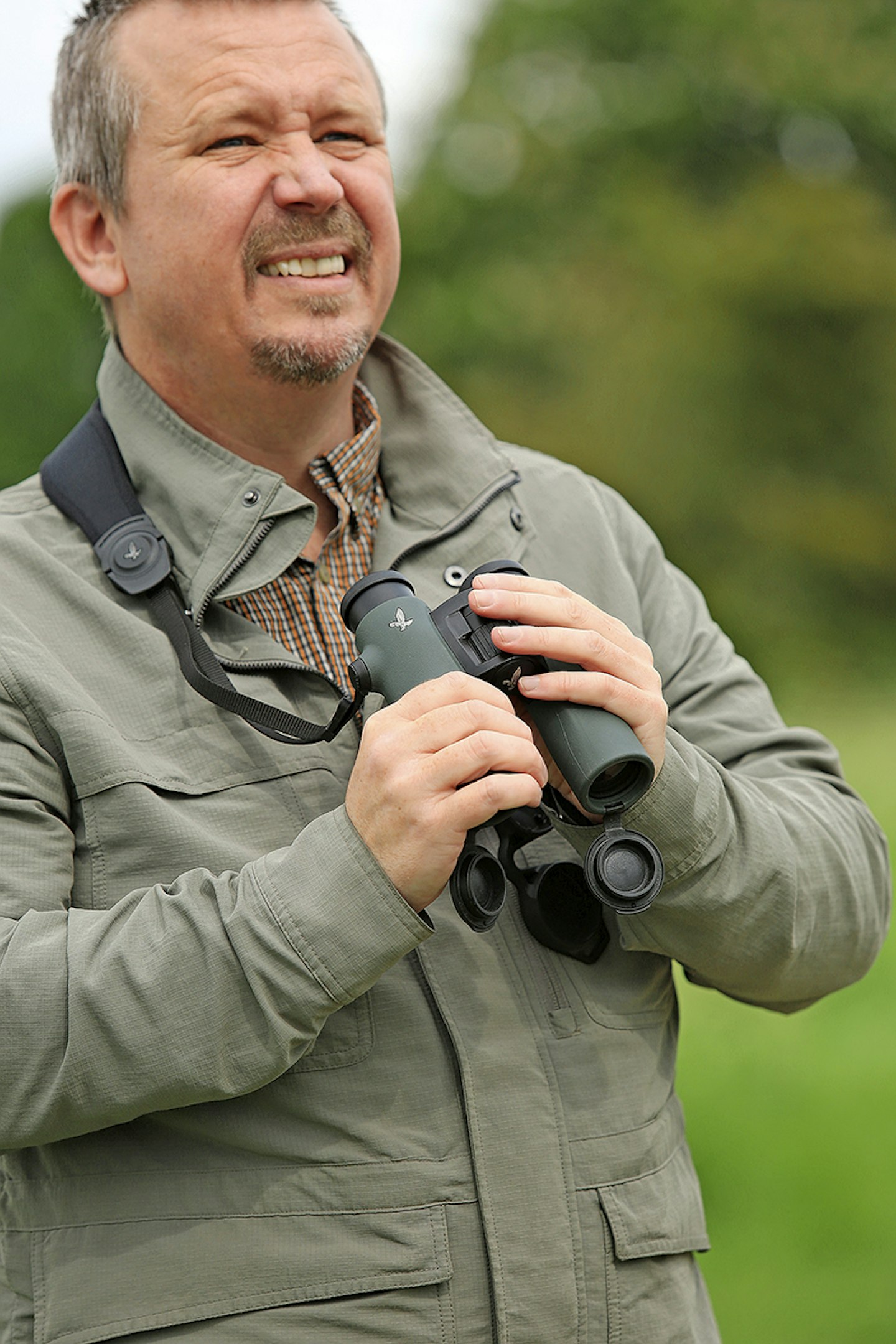 So what about the view? Well, first of all, it feels very wide, with a field of view of 132m@1,000m. It's sharp right to the edges, so you get to appreciate that to the full.
The image produced is bright, sharp, with a true-to-life colour. That applied in pretty much all circumstances – chromatic aberration (or colour fringing) were pretty much impossible to find, even when the sun finally decided to make its reappearance at the end of May and I was able to view objects against it.
Even when following a fast-moving bird against a bright sky, it was negligible.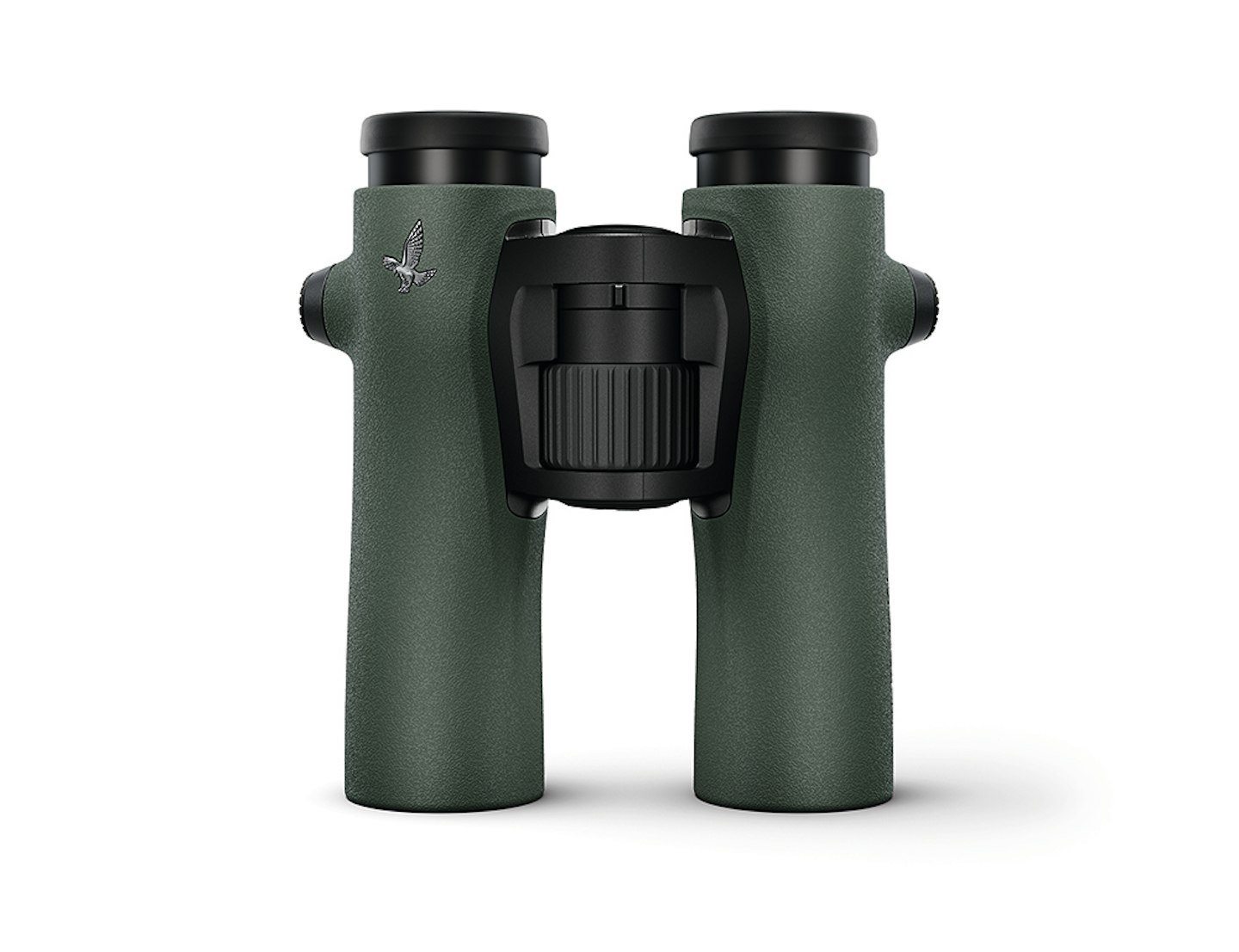 As is so often the case with Swarovski Optik binoculars, and indeed with any 'top end' optics which use superior quality glass, you really see the difference in low light. Dawn and dusk expeditions put them to the test, and they came through with flying colours. In a rapidly darkening woodland at twilight, it's both remarkable and reassuring when the view through your binoculars actually looks brighter than what you see with the naked eye.
Again, as always with Swarovski Optik, the accessories are excellent. There's a good carry case, a fine neoprene strap which makes the bins' light weight feel even lighter, a well-fitted rainguard, and removable tethered objective lens covers. I'm usually not very keen on these, and remove them at the first opportunity; but in this case, they did their job well without ever getting in the way.
VERDICT
They're not, it goes without saying, cheap. But for your money, you get a compact, light pair of binoculars that are a pleasure to handle and provide outstanding optical performance, particularly in low-light conditions. You might never need anything else.
SPECS
Eye relief: 18mm
Field of view: 132m@1,000m
Close focus: 2m
Weight: 640g
Size (LxWxD): 144 x 130 x 65mm
RRP: £2,020
Website: [https://www.swarovskioptik.com/gb/en/birding/search?q=nl+pure](https://www.swarovskioptik.com/gb/en/birding/search?q=nl+pure=nl+pure)