Reviewed by David Chandler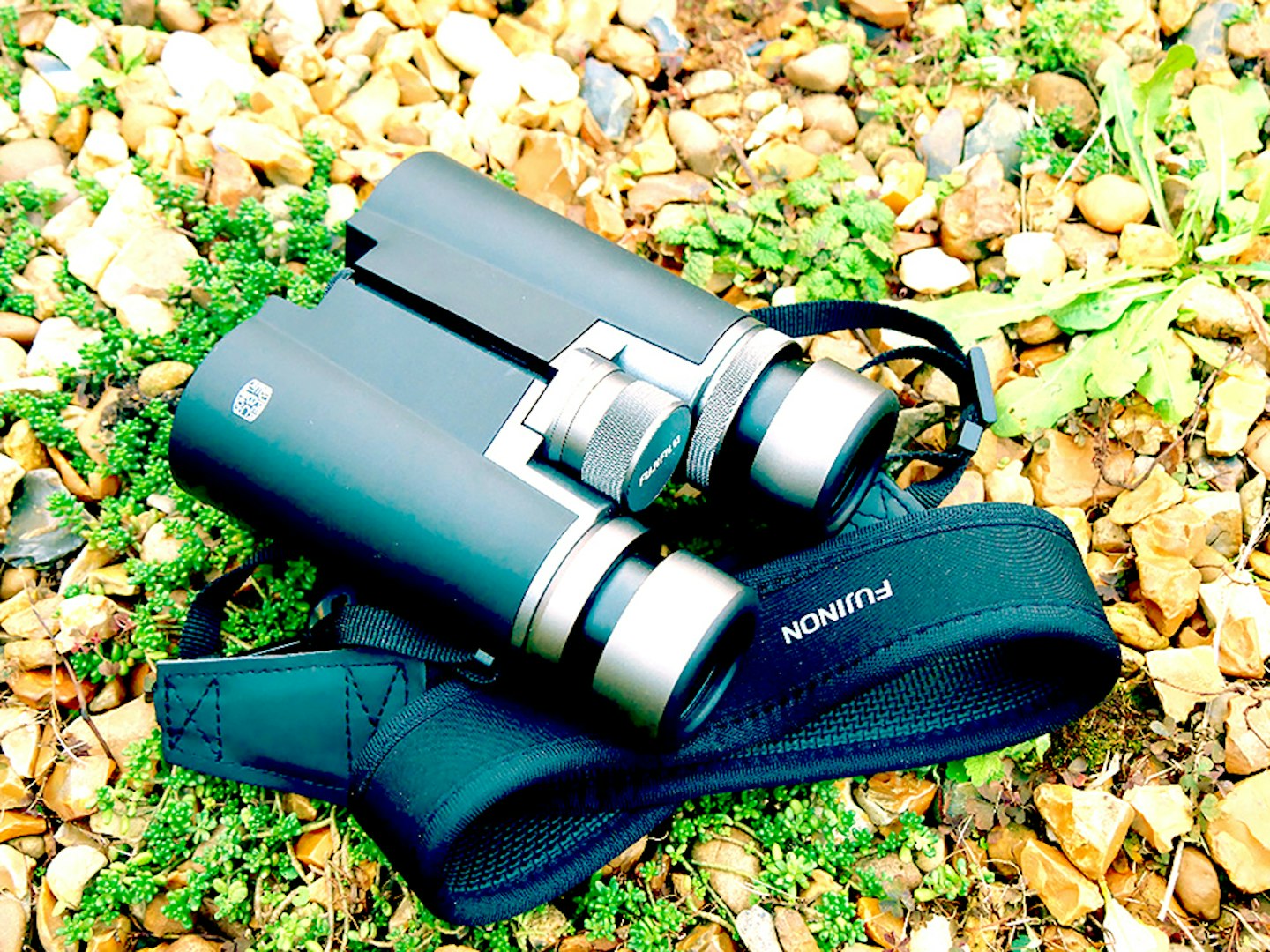 Fujinon binoculars have been around for a long time, but it's not well known as a birdwatching brand. Could the Hyper-Clarity change that? Launched in October 2020 the range includes 8x42 and 10x42 models. I was sent the 8x42 pair for review.
Impressive build
This Japanese-made binocular is very well built – it has the feel of a top-end binocular, but with a much smaller price tag. It's fairly bulky, with a magnesium alloy body, a milled metal focusing wheel and dioptre ring, and no thumb indents underneath. It is very good to handle. At a bit under 800g it is not particularly heavy or notably lightweight but is well balanced and didn't feel heavy in the hands or around the neck.
As is de rigueur these days, it's armoured, waterproof and fog-proof. It also has water-repellent coating on the exterior lens surfaces. The dioptre is a simple twist ring – it's not calibrated or locking but I didn't notice any problem with it moving off position once set, and the eyecups twist up and down with a very good action and one intermediate position.
There's 18mm of eye-relief which should be plenty for glasses-wearers – 15mm is the minimum you should look for.
The single finger-wide focusing wheel moves smoothly and fairly stiffly, clockwise towards infinity, through 3¼ turns. That's a lot of focus movement, but typical birding distances are covered in about ½ a turn. The strap attachment lugs however don't have much room behind them – getting the strap on isn't easy. You don't have to do this very often though so it's certainly not a deal breaker.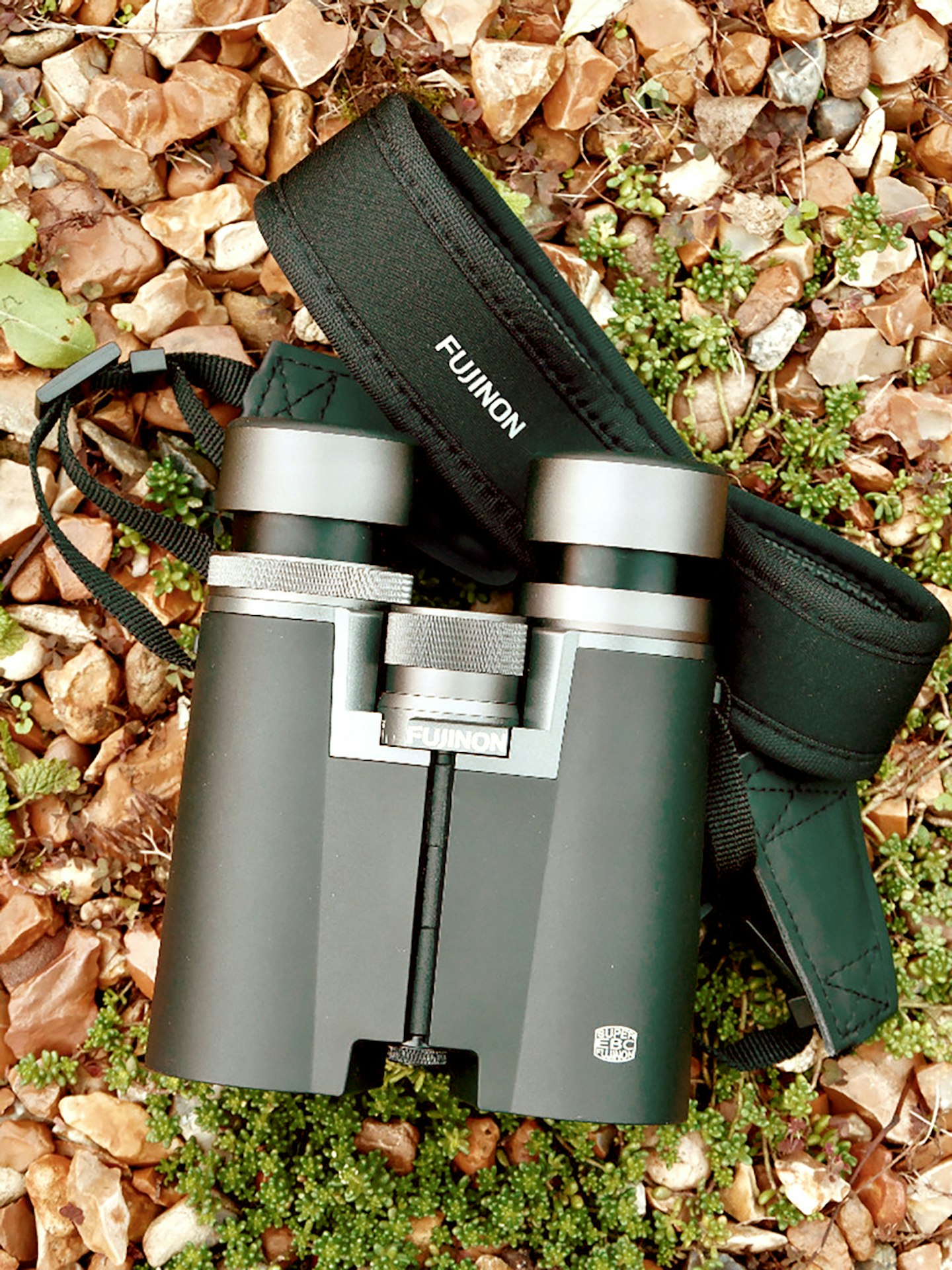 In the field
To my eyes the Hyper-Clarity image is 'clean, white and cool'. Sharpness is very good, though perhaps not quite as good at long range. I did, however, sometimes notice an obvious, narrow ring of peripheral softness.
Brightness is good and this binocular won't let you down in low light. I tested them on a more or less overcast late December day, with a cold wind. At sunset, I could pick out colours on Ouse Fen and details in a heavily shaded area. There was a blast of Cetti's Warbler song. The Fujinons were still performing well, showing fen colour and some detail in shadow, 20 minutes later, and, though losing it a bit, at 30 minutes after sunset. Then, half an hour after sunset, 11 wild swans (presumed Whoopers) flew into roost – later than you might think.
The field of view is very good (8°) and I didn't detect any chromatic aberration (colour fringing), owing, in part at least, to some ED glass. The spec for this binocular quotes its close-focus as 2m. These figures aren't always accurate – and I found the reality to be much better – I measured it at just under 145cm which is very good indeed – perhaps more should be made of this in the marketing.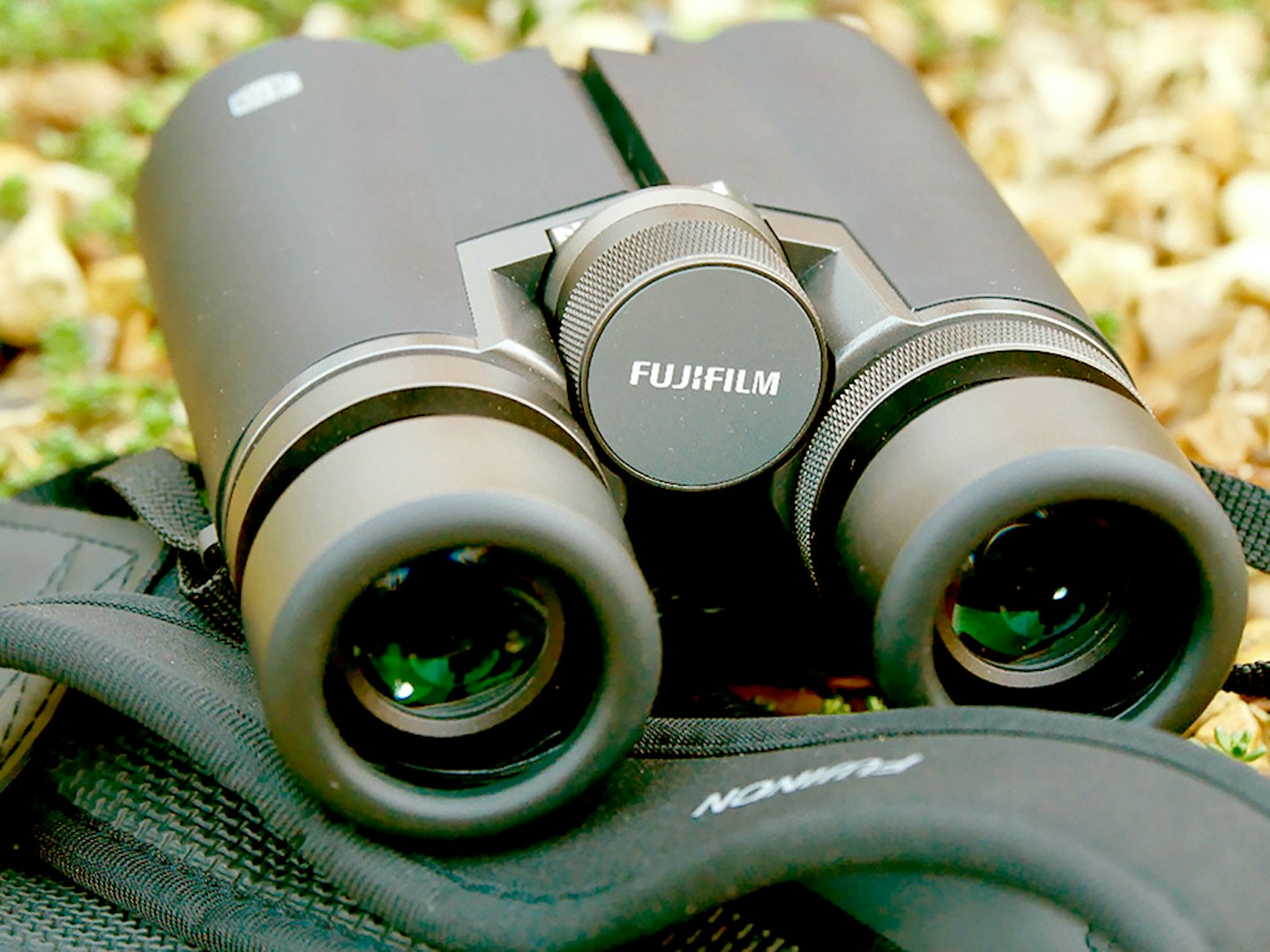 I did sometimes have to 'hunt' for best focus – this may improve given more time with the binocular and in lower temperatures found the eyecups unpleasantly cold – the eye-facing surface is covered in rubber, but the rest is bare metal. I also found the rainguard too tight a fit for my liking, but you could replace it with a different one if necessary.
Verdict
The 8x42 Hyper-Clarity has impressive build quality, feels good in the hands and is well balanced. The image is very good, albeit with a little edge softness, and it performed well in low light. The view is wide, chromatic aberration is well corrected and the close-focus is very good. The eyecups do get cold though and getting the strap on is a faff.
Ratings (out of 5)
Optics 4
Handling 3½
Price 4
Overall 4
Specs
Eye relief: 18mm
Field of view: 8°/136m@1000m
Close focus: 2m (quoted)
Weight: 786g
Length x width x depth: 139x130x54mm
RRP: £770
Warranty: 1yr
Supplied with: Case (no strap attachment points), rainguard, objective covers (not tethered), strap
Web: fujifilm.com