August 1992
Pelicans by bus, nuthatches on foot
Do family holidays interfere with your birding? Would you like to explore the unknown? Veteran birdwatcher Ian Wallace knows how to get the best of both worlds and his major new series could be your passport to birding success abroad. Here, he explores the by-ways of Yugoslavia [which broke up into its constituent countries in the 1990s into the 2000s].
Yugoslavia is virtually no more, but in 1982, its strange constitution was still holding together a 'royalist' north, 'communist' middle area and a 'Muslim and Albanian' south. It was a favourite holiday destination of many Britons.
It had long been among my fancied countries and offered, through its well developed tourist industry, easy and cheap access to three dreadful gaps in my list – Pygmy Cormorant, Sombre Tit and Rock Nuthatch – and importantly for my family, alternative pursuits – swimming, sun-bathing, eastern orthodox churches and the quite marvellous city of Dubrovnik.
Accordingly, we ignored the best bird spots like Lake Skutar and compromised on a two centre holiday, one week at Lake Ohrid and another at Plat, south of Dubrovnik. The ruse worked. Pygmy Cormorant gave itself up in the first dawn, but the tit and the nuthatch took longer, the last in particular setting me an initially exasperating but finally, very fulfilling exercise in reading habitat!
Here follows excerpts from my diary demonstrating how dedicated bird tours are not the only routes to good birds and allied excitements: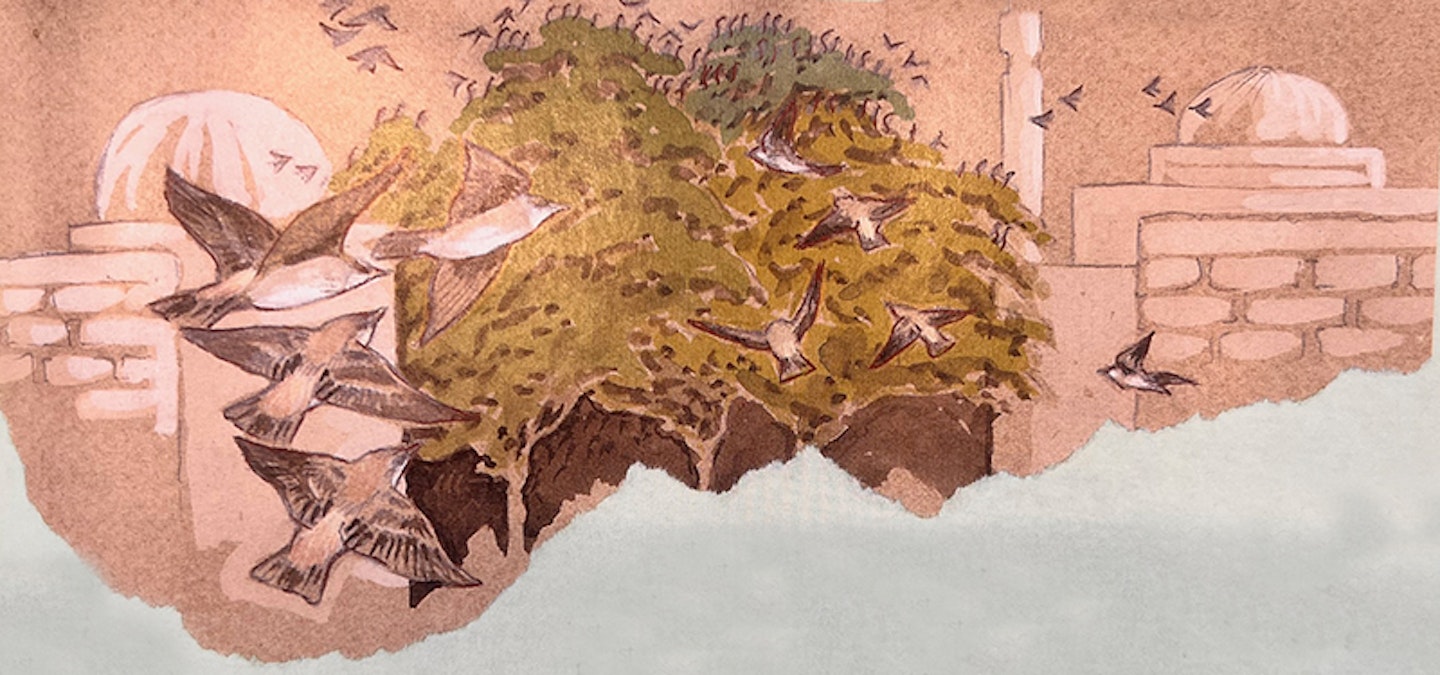 9 August 1982
"This was to be the day of the great, cheap, bus trip – from Lake Ohrid to Bitola, on to Lake Prespa and the Galicia National Park and back – but I could not resist another dawn search of the Gorica parkland and lake fringe.
New in from heavy clouds were Greenshank and Snipe, further witnesses to early wader migration, but the best birds were two Moustached Warblers (with their rounded tails perversely looking square because of tight closure!), found by chance during an attempt to use a reed screen to creep up on some Pygmy Cormorants.
After breakfast, we readied ourselves for the bus and eventually it departed. We were the only Brits in a crowd of German and Dutch, but managed to secure frontish seats even so. About 11km out from Ohrid, we entered hills but hardly a bird showed. The first summit was at Bukoro at 22km, but there were no birds. My heart sank. On the road wound; but no bird came. Then near Kirsle, a pair of White Storks feeding in a roadside meadow lit up a grey morning. Were they an omen?.
At the second summit – 45km on – a Red-rumped Swallow came out of a culvert. At 1,198m, it was the highest I had ever seen one. We trailed on to a comfort stop at Gavato and then at 57km a lusher plain opened up.
At long last, birds appeared, the best being three Lesser Grey Shrikes sharing a wire with a Cuckoo. This was better, but soon we reached Bitola and compulsory tourism. The Roman ruins were rather fine, complete with a gruesome layer of hidden World War II bones which had been found in the face of new excavations, but the whole site had only four species of birds in it! Was this a day to write off?
The next target for our camera-clad companions were the old mosques in the city centre. There we found a crisscross of dusty roads, town gardens, a wide sewer that had been a river and several magnificent trees by the clock tower. A family of Grey Wagtails pleased as ever but were no preparation for the first of the day's ornithological summits.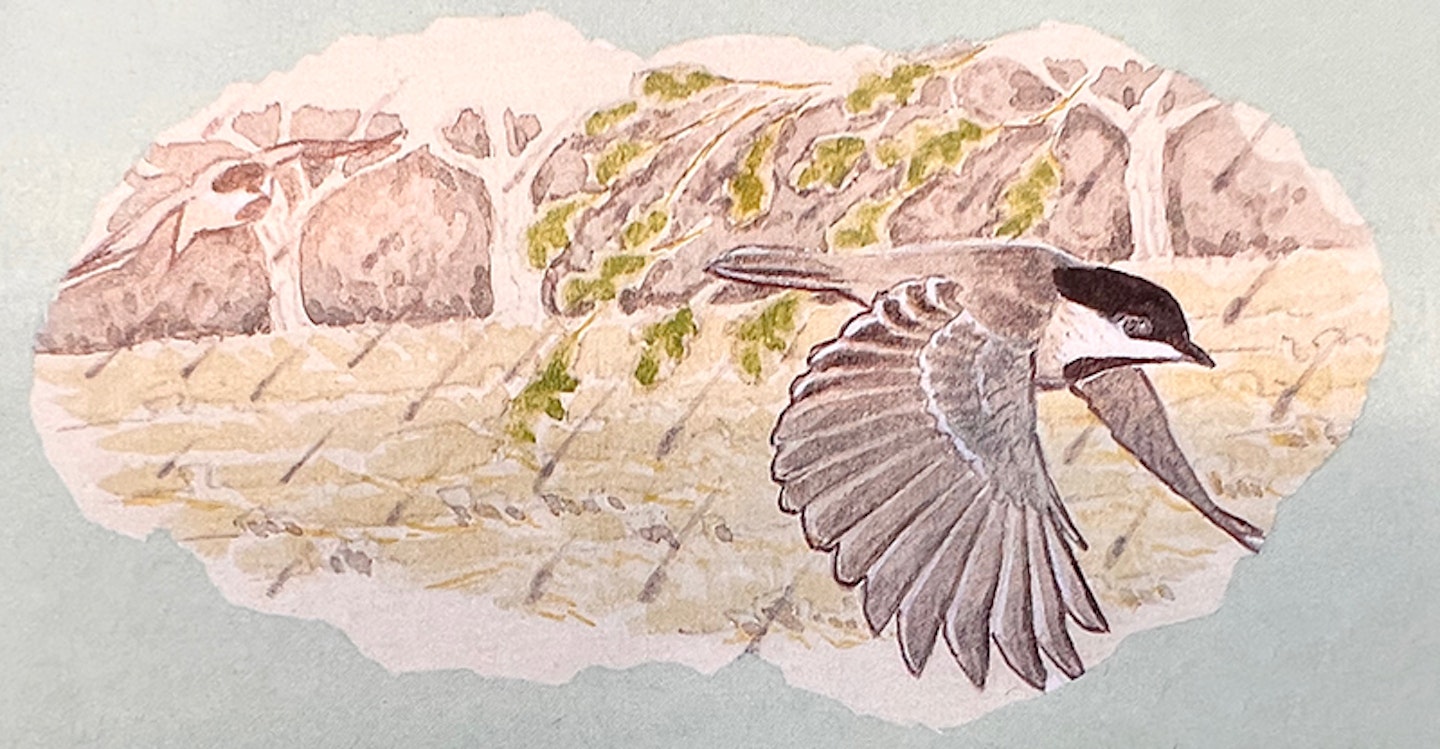 This was the flooding in to the trees of hundreds of immature Rose-coloured Starlings. As the guide shepherded us to the bus, I estimated that between 350 and 400 were in the swarm, swirling about with their looser, slightly flappier flight (than Starling) and pale, two-tone plumage.
Some showed the dark wing-pits that had struck me on Scilly vagrants. We had been told that Bitola was "a town of the Orient". Certainly its Starlings were eastern!
After this marvellous good fortune, our packed lunches tasted delicious. What would the afternoon hold? At the second summit towards Prespa, Swifts and Alpine Swifts were moving east and the day's score of Red-rumped Swallows reached five.
Soon we were running down the shoulder of Pellister towards the lake. After the orchards of the Resen vale, there was the reed-fringed north shore. Another White Stork showed. The whole area smelt of birds, and really mature oaks grew on the western slopes. Maybe I would see Sombre Tit.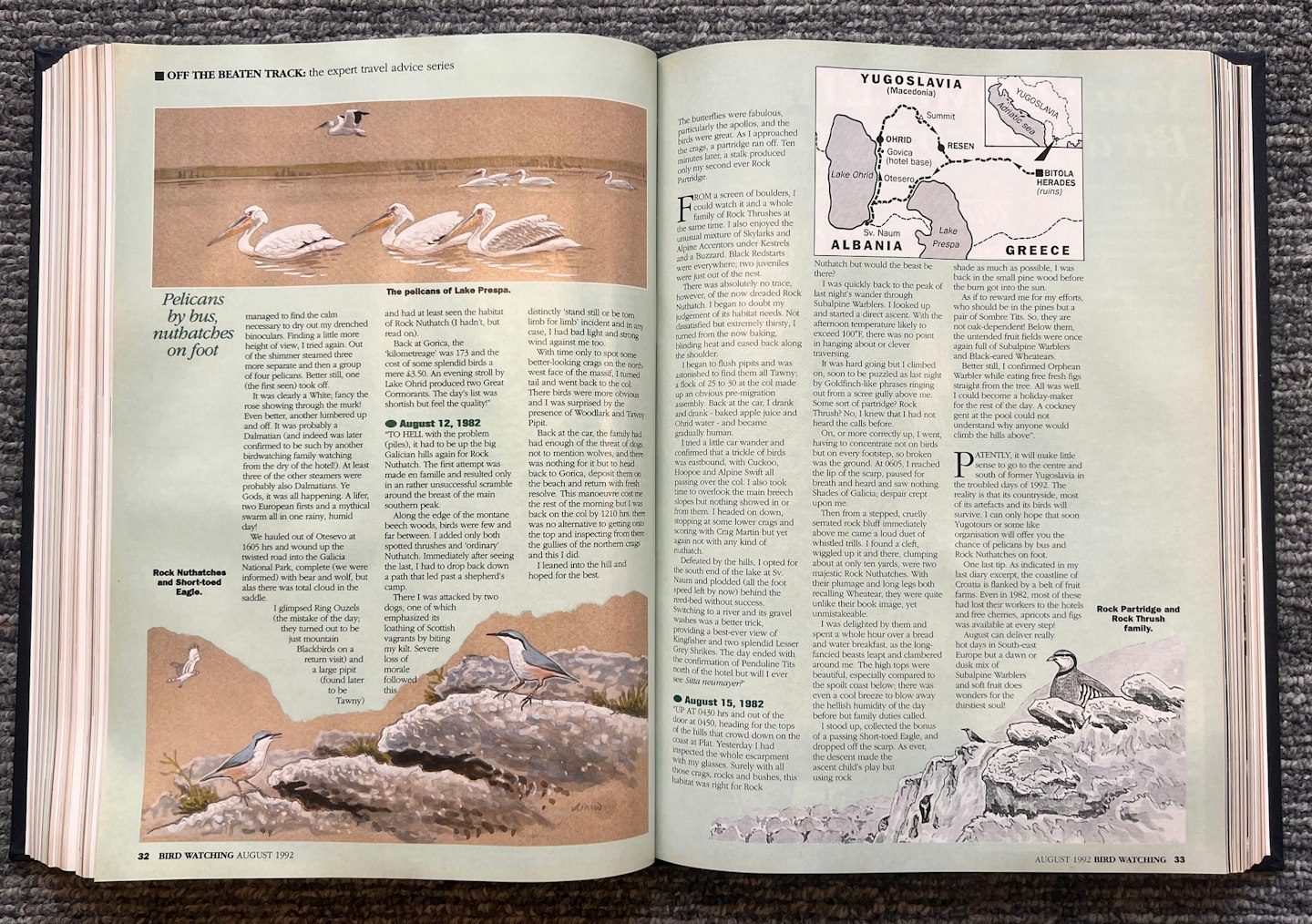 Over the water, terns could be seen and on it swam grebes. Little Egrets stood in the shallows. At 121km, we reached Otesevo with its pleasant tourist complex perched just above the lake's surround of trees.
Ditching the family and ignoring dreadfully black clouds, I made a run at the nearest oaks only to be brought up short by a small group of tits only 200 yards from the Hotel Yugoslavia. After a Blue came a Great and after it, a huge bounding grey job which proved to be no less than my first Sombre.
It was one of a pair and I was able to watch them feeding at 10 yards before trying to find Karin (unsuccessfully) and experiencing heavy rain (successfully). The torrents cost me 20 of the precious 45 minutes left of the stop-time but working hard, I saw another Sombre – ignoring the rain like me. Well satisfied, I decided to switch my attention to the lake, bounding down the steps to the sodden shore.
Genghis, the guide, had been adamant that all the pelicans would be long gone to the Adriatic, but to my great excitement, a long scan produced some very suspicious distant blobs on the water. The two closest shimmered in the rapidly clearing haze but one was distinctly rosey-white and the other dirty-pinky-greyish-cream!
I couldn't have both species of pelican where there supposed to be none, could I?

I got into a fuss but managed to find the calm necessary to dry out my drenched binoculars. Finding a little more height of view, I tried again. Out of the shimmer steamed three more separate and then a group of four pelicans.
Better still, one (the first seen) took off.
It was clearly a White; fancy the rose showing through the murk!
Even better, another lumbered up and off. It was probably a Dalmatian (and indeed was later confirmed to be such by another birdwatching family watching from the dry of the hotel!). At least three of the other steamers were probably also Dalmatians. Ye Gods, it was all happening. A lifer, two European firsts and a mythical swarm all in one rainy, humid day!
We hauled out of Otesevo at 1605 hrs and wound up the twisted road into the Galicia National Park, complete (we were informed) with Brown Bear and Wolf, but alas there was total cloud in the saddle.
I glimpsed Ring Ouzels (the mistake of the day; they turned out to be just mountain Blackbirds on a return visit and a large pipit (found later to be Tawny) and had at least seen the habitat of Rock Nuthatch (I hadn't, but read on).
Back at Gorica, the 'kilometreage' was 173 and the cost of some splendid birds a mere $3.50. An evening stroll by Lake Ohrid produced two Great Cormorants. The day's list was shortish but feel the quality!"
12 August 1982
"To Hell with the problem (piles), it had to be up the big Galican hills again for Rock Nuthatch. The first attempt was made en famille and resulted only in an rather unsuccessful scramble around the breast of the main southern peak.
Along the edge of the montane Beech woods, birds were few and far between. I added only both spotted thrushes and 'ordinary' Nuthatch. Immediately after seeing the last, I had to drop back down a path that led past a shepherd's camp.
There I was attacked by two dogs, one of which emphasized its loathing of Scottish vagrants by biting my kilt. Severe loss of morale followed this distinctly 'stand still or be totor limb for limb' incident and in any case, I had bad light and strong wind against me, too.
With time only to spot some better-looking crags on the north-west face of the massif, I turned tail and went back to the col. There birds were more obvious and I was surprised by the presence of Wood Lark and Tawny Pipit.
Back at the car, the family had had enough of the threat of dogs, not to mention Wolves, and there was nothing for it but to head back to Gorica, deposit them on the beach and return with fresh resolve. This manoeuvre cost me the rest of the morning, but I was back on the col by 1210 hrs. There was no alternative to getting onto the top and inspecting from there the gullies of the northern crags and this I did.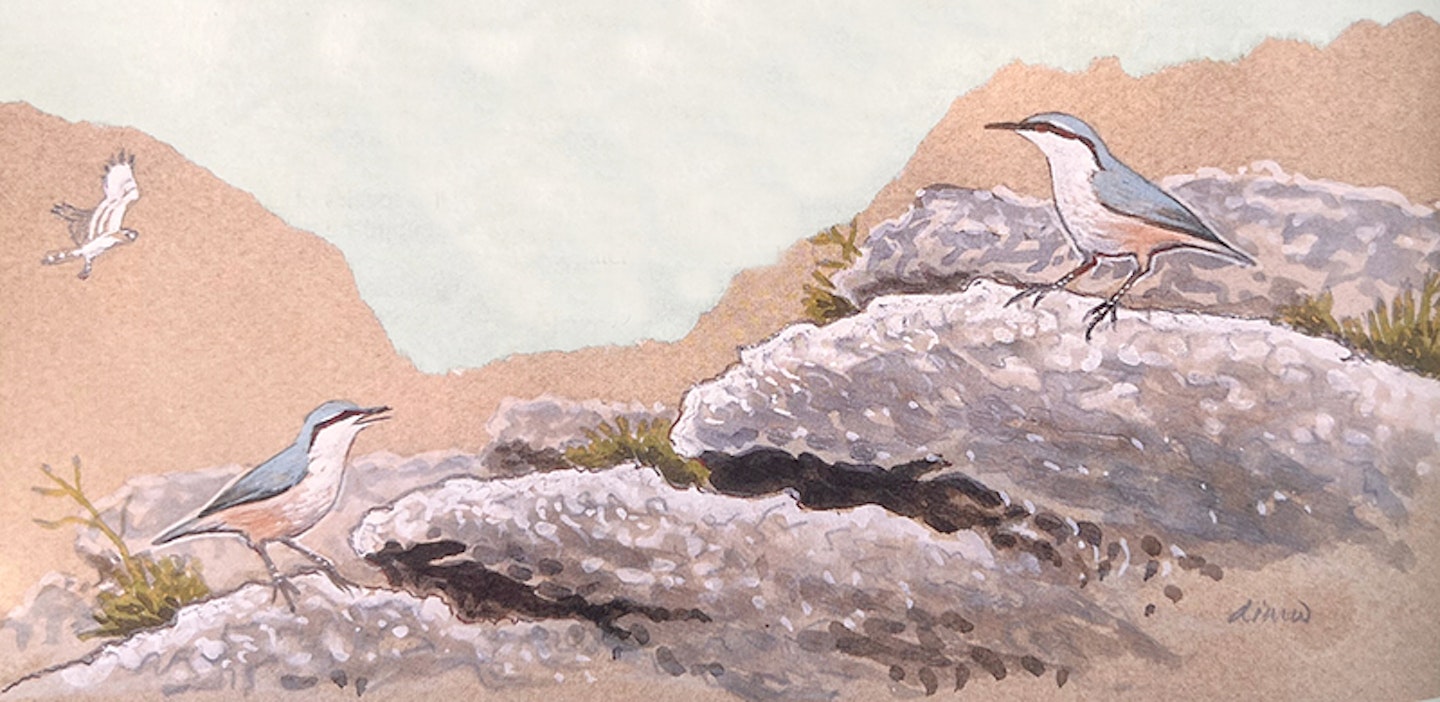 I leaned into the hill and hoped for the best the butterflies were fabulous, particularly the apollos, and the birds were great. As I approached the crags, a partridge ran off. Ten minutes later, a stalk produced only my second ever Rock Partridge.
From a screen of boulders, I could watch it and a whole family of Rock Thrushes at the same time. I also enjoyed the unusual mixture of Sky Larks and Alpine Accentors under Kestrels and a Buzzard. Black Redstarts were everywhere; two juveniles were just out of the nest.
There was absolutely no trace, however, of the now dreaded Rock Nuthatch. I began to doubt my judgement of its habitat needs. Not dissatisfied, but extremely thirsty, I turned from the now baking, blinding heat and eased back along the shoulder.
I began to flush pipits and was astonished to find them all Tawny; a flock of 25 to 30 at the col made up an obvious pre-migration assembly. Back at the car, I drank and drank – baked apple juice and Ohrid water – and became gradually human.
I tried a little car wander and confirmed that a trickle of birds was eastbound, with Cuckoo, Hoopoe and Alpine Swift all passing over the col. I also took time to overlook the main breech slopes but nothing showed in or from them. I headed on down, stopping at some lower crags and scoring with Crag Martin but yet again not with any kind of nuthatch.
Defeated by the hills, I opted for the south end of the lake at Sv. Naum and plodded all the foot speed left by now) behind the reed-bed without success. Switching to a river and its gravel washes was a better trick, providing a best-ever view of Kingfisher and two splendid Lesser Grey Shrikes. The day ended with the confirmation of Penduline Tits north of the hotel but will I ever see Sitta neumayer?'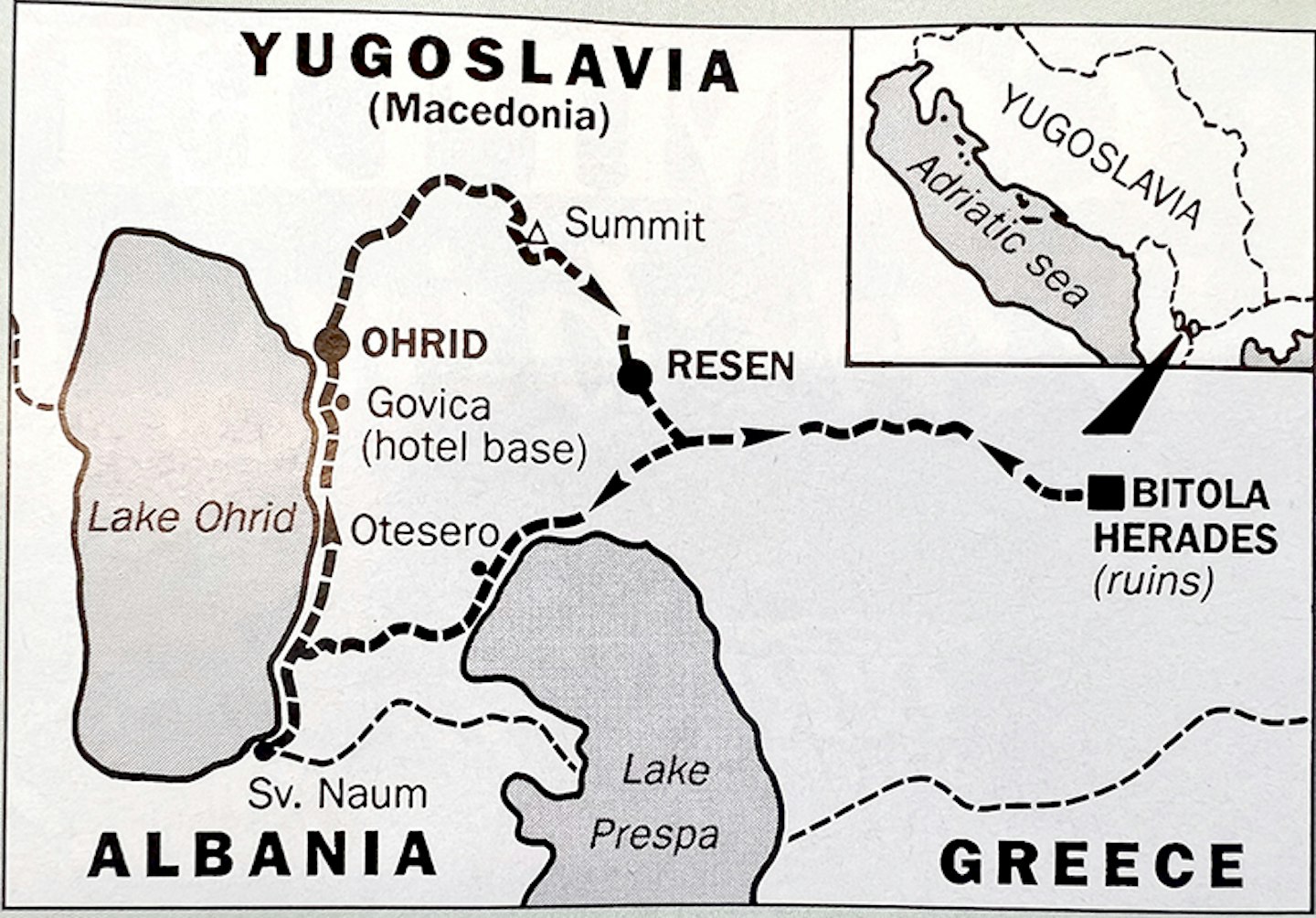 15 August 1982
"Up at 0430 hrs and out of the door at 0450, heading for the tops of the hills that crowd down on the coast at Plat. Yesterday, I had inspected the whole escarpment with my glasses. Surely with all those crags, rocks and bushes, this habitat was right for Rock Nuthatch, but would the beast be there? I was quickly back to the peak of last night's wander through Subalpine Warblers. I looked up and started a direct ascent. With the afternoon temperature likely to exceed 100°F, there was no point in hanging about or clever traversing.
It was hard going but I climbed on, soon to be puzzled as last night by Goldfinch-like phrases ringing out from a scree gully above me. Some sort of partridge? Rock Thrush? No, I knew that I had not heard the calls before.
On, or more correctly up, I went, having to concentrate not on birds but on every footstep, so broken was the ground. At 0605, I reached the lip of the scarp, paused for breath and heard and saw nothing. Shades of Galicia; despair crept upon me.
Then from a stepped, cruelly serrated rock bluff immediately above me came a loud duet of whistled trills. I found a cleft, wiggled up it and there, clumping about at only 10 yards, were two majestic Rock Nuthatches. With their plumage and long legs both recalling Wheatear, they were quite unlike their book image, yet unmistakeable.
I was delighted by them and spent a whole hour over a bread and water breakfast, as the long-fancied beasts leapt and clambered around me. The high tops were beautiful, especially compared to the spoilt coast below; there was even a cool breeze to blow away the hellish humidity of the day before but family duties called.
I stood up, collected the bonus of a passing Short-toed Eagle, and dropped off the scarp. As ever, the descent made the ascent child's play but using rock shade as much as possible, I was back in the small pine wood before the burn got into the sun. As if to reward me for my efforts, who should be in the pines but a pair of Sombre Tits. So, they are not oak-dependent! Below them, the untended fruit fields were once again full of Subalpine Warblers and Black-eared Wheatears.
Better still, I confirmed [Eastern] Orphean Warbler while eating free fresh figs straight from the tree. All was well. I could become a holiday-maker for the rest of the day. A Cockney gent at the pool could not understand why anyone would climb the hills above"
Patently, it will make little sense to go to the centre and south of former Yugoslavia in the troubled days of 1992. The reality is that its countryside, most of its artefacts and its birds will survive. I can only hope that soon Yugotours or some like organisation will offer you the chance of pelicans by bus and Rock Nuthatches on foot.
One last tip. As indicated in my last diary excerpt, the coastline of Croatia is flanked by a belt of fruit farms. Even in 1982, most of these had lost their workers to the hotels and free cherries, apricots and figs was available at every step!
August can deliver really hot days in south-east Europe, but a dawn or dusk mix of Subalpine Warblers and soft fruit does wonders for the thirstiest soul!