December 1989
Christmas Gifts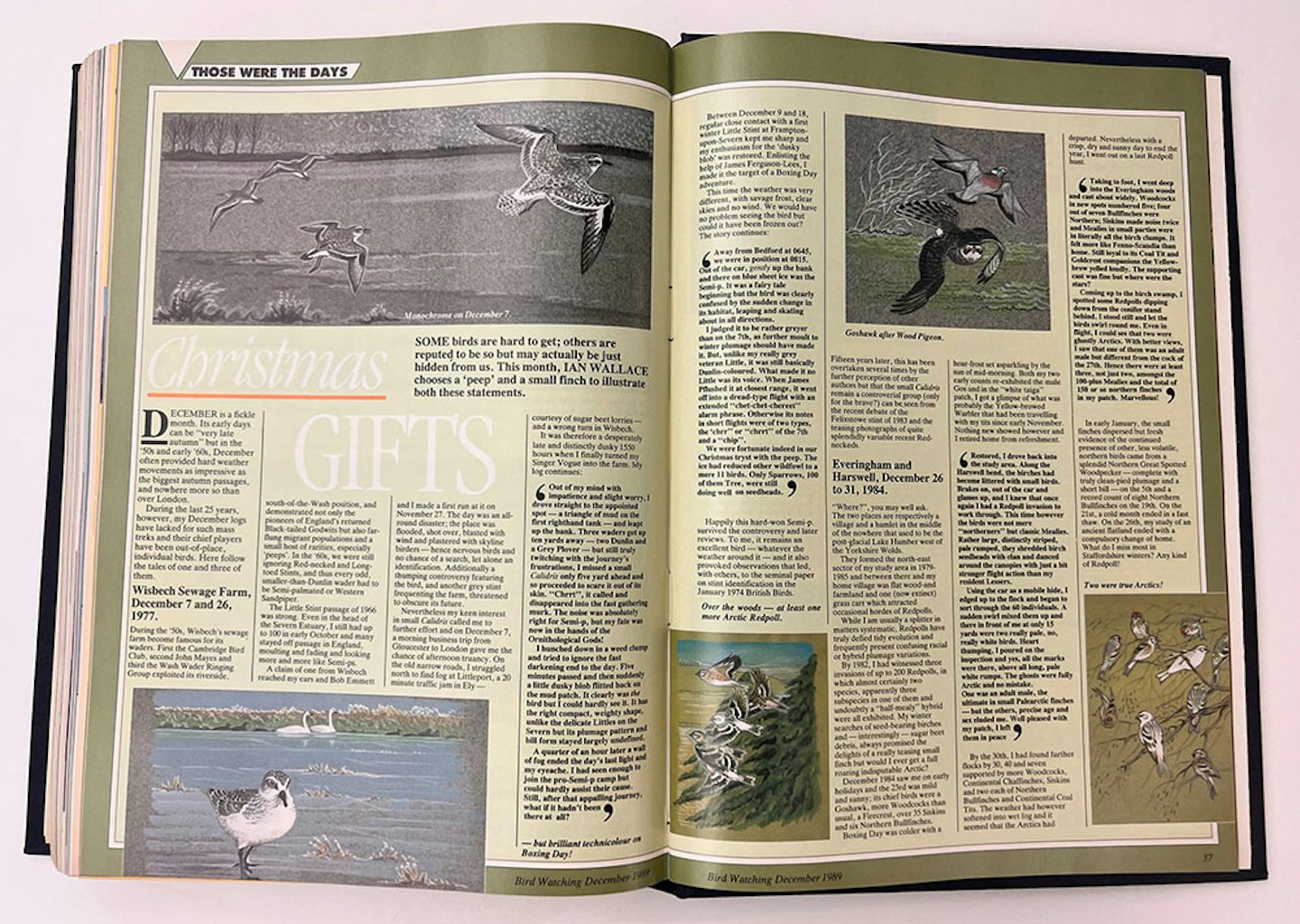 Some birds are hard to get; others are reputed to be so but may actually be just hidden from us. This month, Ian Wallace chooses a 'peep' and a small finch to illustrate both these statements.
December is a fickle month. Its early days can be very late autumn, but in the 1950s and early 1960s, December often provided hard weather movements as impressive as the biggest autumn passages, and nowhere more so than over London. During the last 25 years, however, my December logs have lacked for such mass treks and their chief players have been out-of-place, individual birds. Here follow the tales of one and three of them.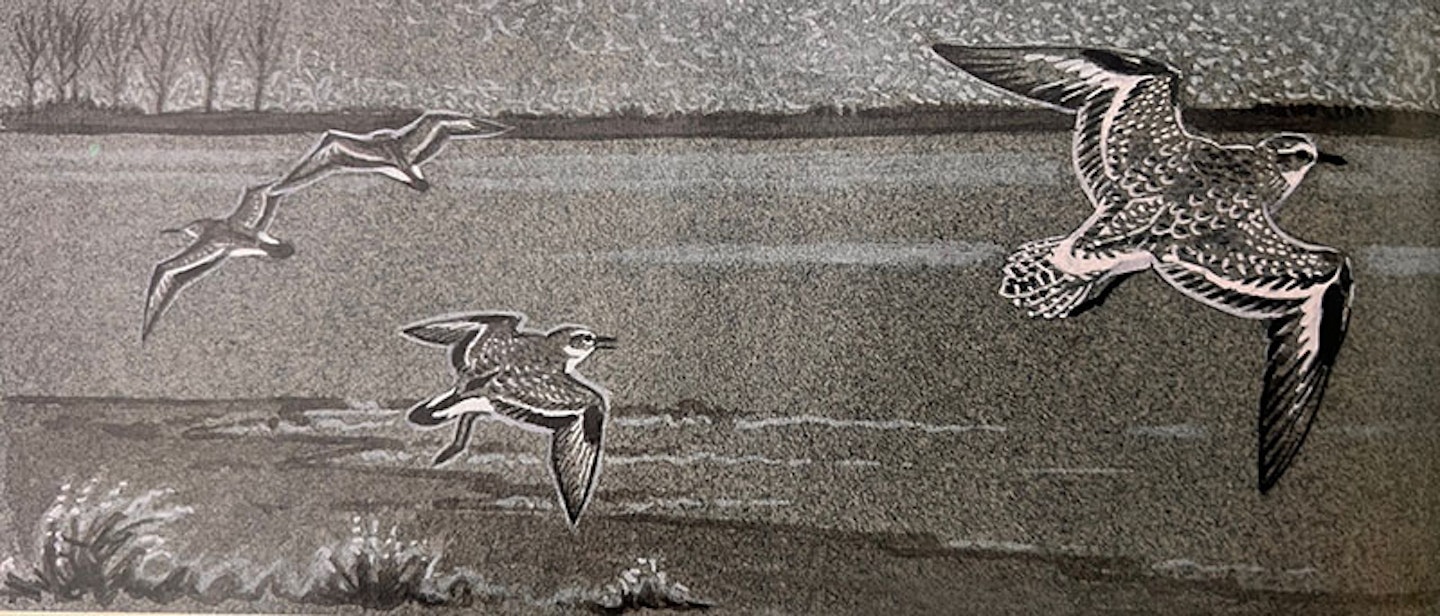 Wisbech Sewage Farm, 7 and 26 December 1977.
During the 1950s, Wisbech's sewage farm become famous for its waders. First, the Cambridge Bird Club, second John Mayes, and third, the Wash Wader Ringing Group exploited its riverside, south-of-the-Wash position, and demonstrated not only the pioneers of England's returned Black-tailed Godwits, but also far-flung migrant populations and a small host of rarities, especially 'peeps'.
In the 1960s, we were still ignoring Red-necked and Long-toed Stints, and thus every odd. smaller-than-Dunlin wader had to be Semipalmated or Western Sandpiper. The Little Stint passage of 1966 was strong. Even in the head of the Severn Estuary, I still had up to 100 in early October and many stayed off passage in England moulting and fading and looking more and more like 'Semi-Ps'.
A claim of one from Wisbech reached my ears and Bob Emmett and I made a first run at it on 27 November. The day was an all-round disaster; the place was flooded, shot over, blasted with wind and plastered with skyline birders – hence nervous birds and no chance of a search, let alone an identification. Additionally, a thumping controversy featuring the bird, and another grey stint frequenting the farm, threatened to obscure its future.
Nevertheless, my keen interest in small Calidris called me to further effort and on 7 December, a morning business trip from Gloucester to London gave me the chance of afternoon truancy. On the old narrow roads, I struggled north to find fog at Littleport, a 20 minute traffic jam in Ely, courtesy of sugar beet lorries and a wrong turn in Wisbech. It was therefore a desperately late and distinctly dusky 1550 hours when I finally turned my Singer Vogue into the farm.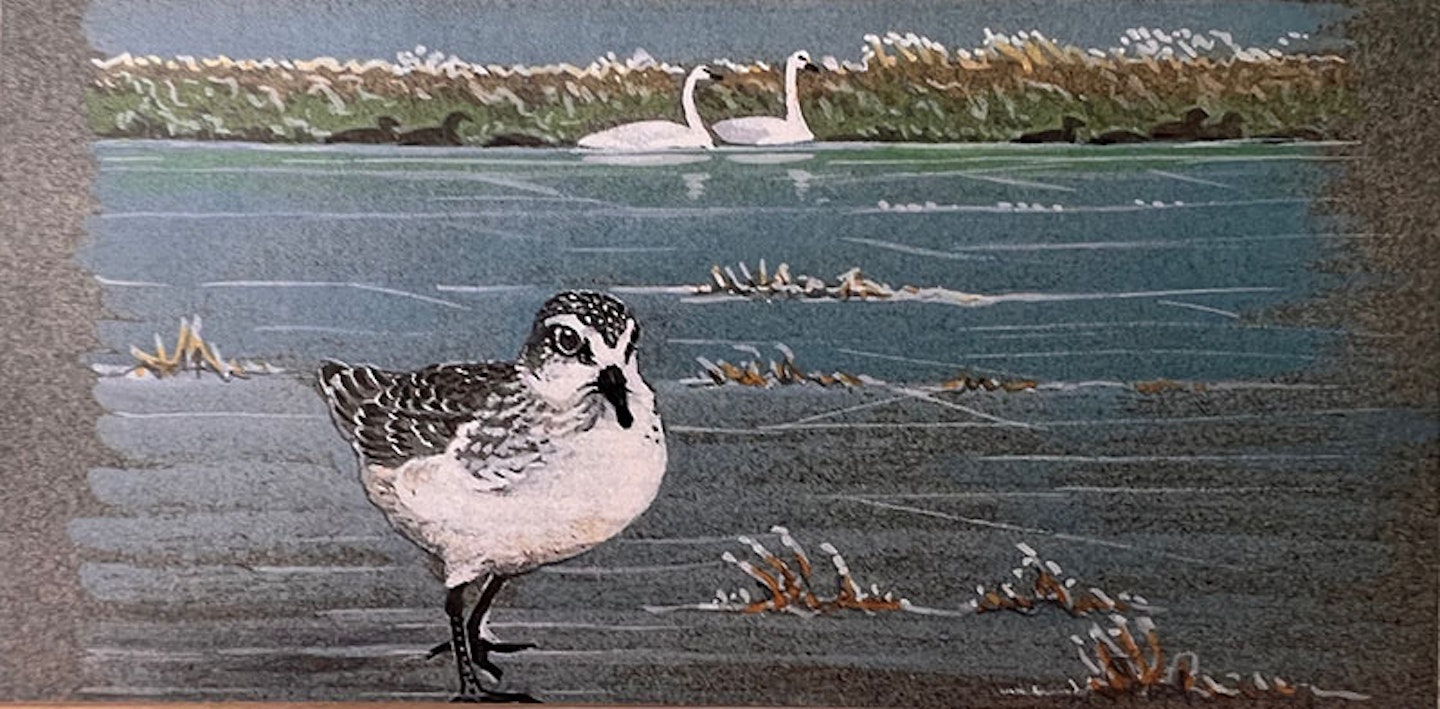 My log continues: Out of my mind with impatience and slight worry, I drove straight to the appointed spot – a triangle of mud on the first right-hand tank – and leapt up the bank. Three waders got up 10 yards away  – two Dunlin and a Grey Plover – but still truly twitching with the journey's frustrations, I missed a small Calidris only five yards ahead and so proceeded to scare it out of its skin. 'Chrrt', it called and disappeared into the fast gathering murk. The noise was absolutely right for Semi-P, but my fate was now in the hands of the Ornithological Gods!
I hunched down in a weed clump and tried to ignore the fast darkening end to the day. Five minutes passed and then suddenly a little dusky blob flitted back on the mud patch. It clearly was the bird, but I could hardly see it. It had the right compact, weighty shape, unlike the delicate Littles on the Severn, but its plumage pattern and bill form stayed largely undefined .
A quarter of an hour later, a wall of fog ended the day's last light and my eye-ache. I had seen enough to join the pro-Semi-P camp but could hardly assist their cause. Still, after that appalling journey, what if it hadn't been there at all? Between 9 and 18 December, regular close contact with a first winter Little Stint at Frampton-upon-Severn kept me sharp and my enthusiasm for the 'dusky blob' was restored.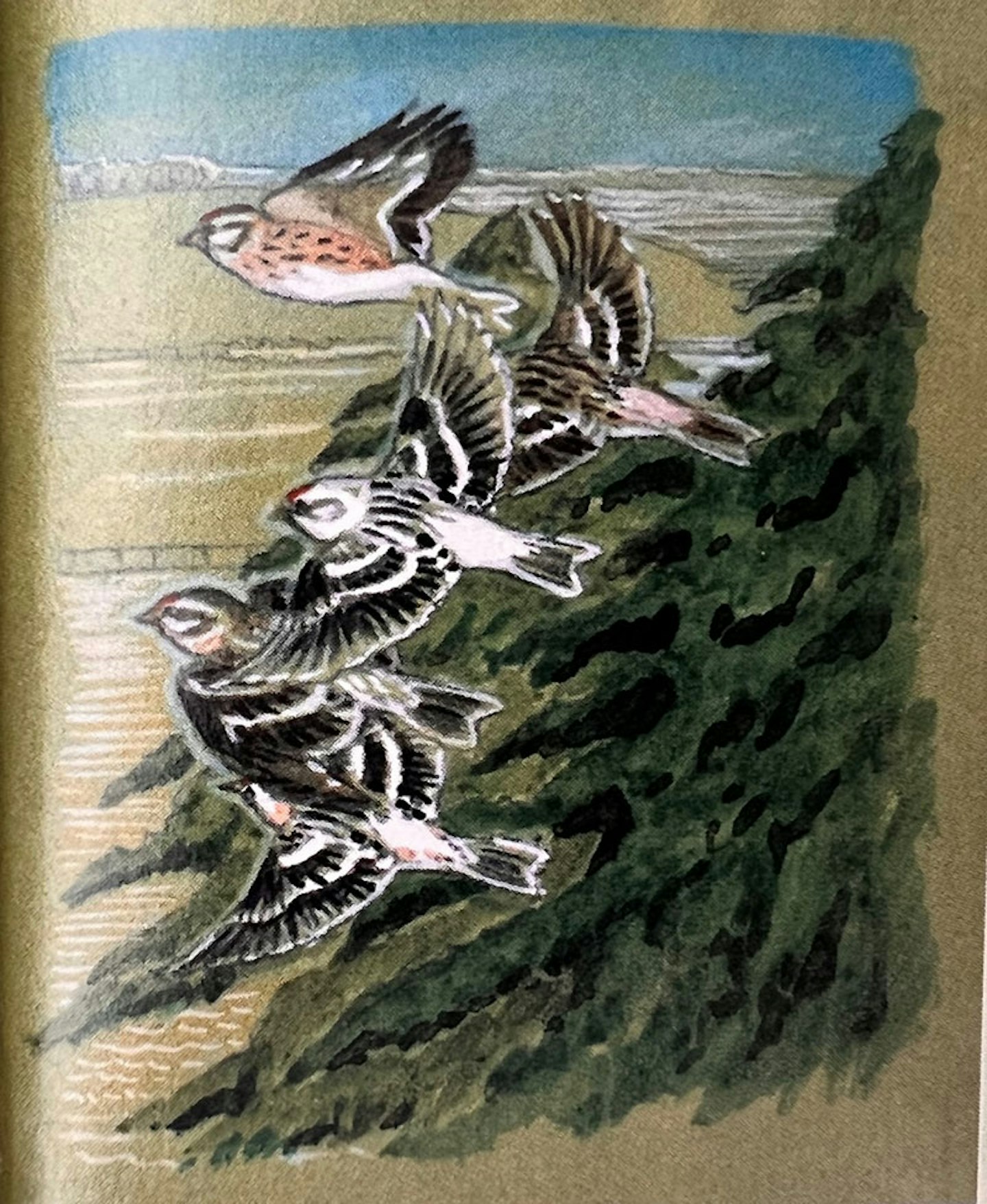 Enlisting the help of James Ferguson-Lees, I made it the target of a Boxing Day adventure. This time the weather was very different, with savage frost, clear skies and no wind. We would have no problem seeing the bird, but could it have been frozen out? The story continues:
Away from Bedford at 0645, we were in position at 0815. Out of the car, gently up the bank and there on blue sheet ice was the Semi-P. It was a fairy tale beginning, but the bird was clearly confused by the sudden change in its habitat, leaping and skating about in all directions. I judged it to be rather greyer than on the 7th, as further moult to winter plumage should have made it. But, unlike my really grey veteran Little, it was still basically Dunlin-coloured.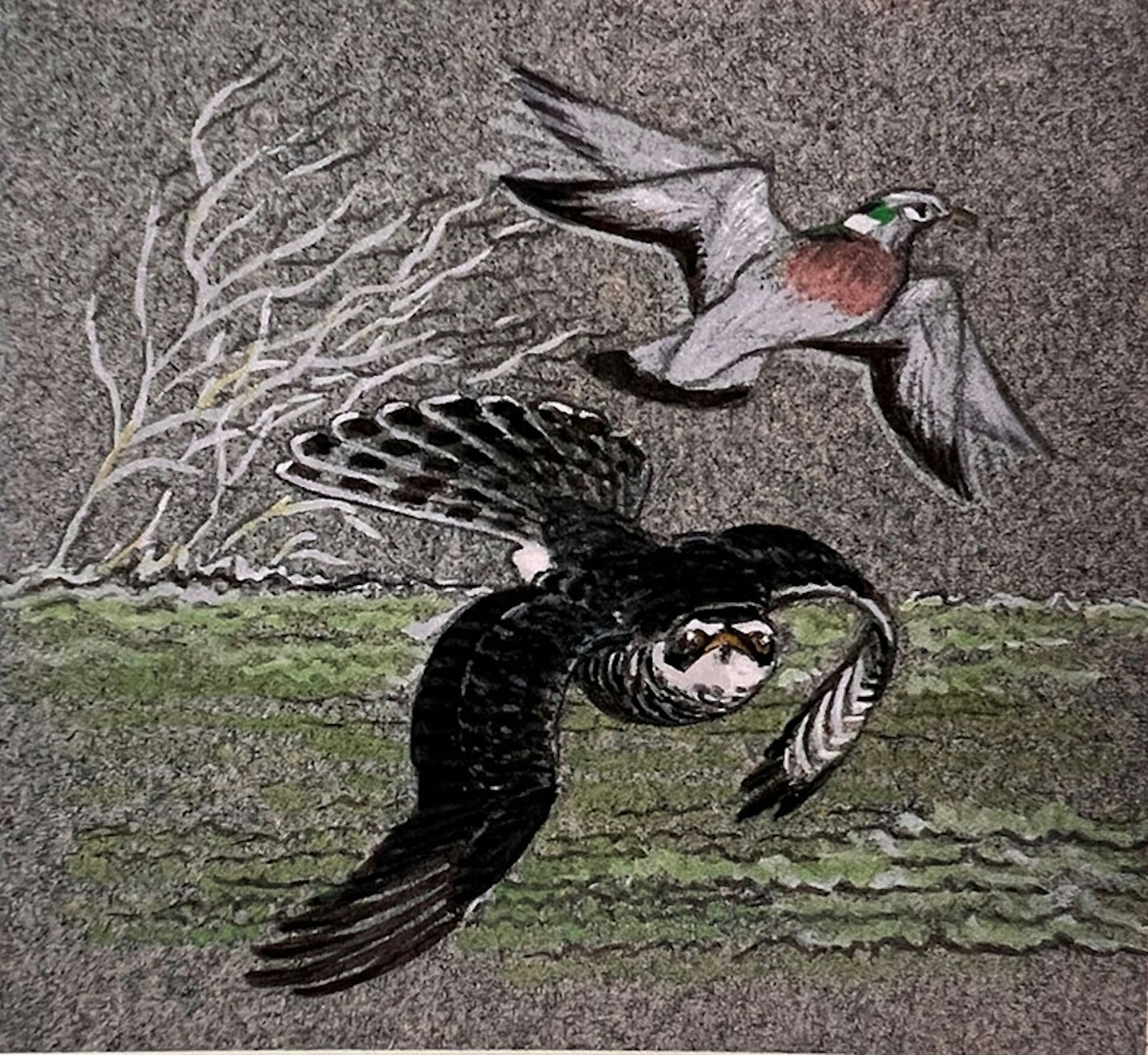 What made it no Little was its voice. When James flushed it at closest range, it went off into a dread-type flight with an extended 'chet-chet-chereet' alarm phrase. Otherwise its notes in short flights were of two types, the 'chrr' or 'chrrt' of the 7th and a 'chip'.
We were fortunate indeed in our Christmas tryst with the peep. The ice had reduced other wildfowl to a mere 11 birds. Only sparrows, 100 of them Tree Sparrows, were still doing well on seedheads.
Happily, this hard-won Semi-P survived the controversy and later reviews. To me, it remains an excellent bird – whatever the weather around it – and it also provoked observations that led, with others, to the seminal paper on stint identification in the January 1974 British Birds.
Fifteen years later, this has been overtaken several times by the further perception of other authors but that the small Calidris remain a controversial group (only for the brave?) can be seen from the recent debate of the Felixstowe stint of 1983 and the teasing photographs of quite splendidly variable recent Red-neckeds.
Everingham and Harswell, 26 to 31 December 1984.
Where?, you may well ask. The two places are respectively a village and a hamlet in the middle of the nowhere that used to be the post-glacial Lake Humber west of the Yorkshire Wolds. They formed the north-east sector of my study area in 1979-1985 and between there and my home village was flat wood-and farmland and one (now extinct) grass carr which attracted occasional hordes of Redpolls.
While I am usually a splitter in matters systematic, Redpolls have truly defied tidy evolution and frequently present confusing racial or hybrid plumage variations. By 1982, I had witnessed three invasions of up to 200 Redpolls, in which almost certainly two species, apparently three subspecies in one of them and undoubtly a half-Mealy hybrid were all exhibited.
My winter searches of seed-bearing birches and – interestingly – sugar beet debris, always promised the delights of a really teasing small finch, but would I ever get a full roaring,, indisputable Arctic? December 1984 saw me on early holidays and the 23rd was mild and sunny; its chief birds were a Goshawk, more Woodcocks than usual, a Firecrest, more than 35 Siskins and six Northern Bullfinches.
Boxing Day was colder with a hoar-frost set sparkling by the sun of mid-morning. Both my two early counts re-exhibited the male Gos and in the white taiga patch, I got a glimpse of what was probably the Yellow-browed Warbler that had been travelling with my tits since early November. Nothing new showed, however, and I retired home from refreshment. Restored, I drove back into the study area. Along the Harswell bend, the birches had become littered with small birds. Brakes on, out of the car and glasses up, and I knew that once again I had a Redpoll invasion to work through.
This time, however, the birds were not mere northerners but classic Mealies. Rather large, distinctly striped, pale-rumped, they shredded birch seedheads with elan and danced around the canopies with just a bit stronger flight action than my resident Lessers. Using the car as a mobile hide, I edged up to the flock and began to sort through the 60 individuals.
A sudden swirl mixed them up and there in front of me at only 15 yards were two really pale, no, really white birds. Heart thumping, I poured on the inspection and yes, all the marks were there: above all long, pale white rumps. The ghosts were fully Arctic and no mistake. One was an adult male, the ultimate in small Palearctic finches – but the others, precise age and sex eluded me. Well pleased with my patch, I left them in peace.
By the 30th, I had found further flocks by 30, 40 and seven supported by more Woodcocks, Continental Chaffinches, Siskins and two each of Northern Bullfinches and Continental Coal Tits. The weather had however softened into wet fog and it seemed that the Arctics had departed. Nevertheless with a crisp, dry and sunny day to end the year, I went out on a last Redpoll hunt. Taking to foot, I went deep into the Everingham woods and cast about widely, Woodcocks in new spots numbered five; four out of seven Bullfinches were Northern; Siskins made noise twice and Mealies in small parties were in literally all the birch clumps. It felt more like Fenno-Scandia than home.
Still loyal to its Coal Tit and Goldcrest companions the Yellow-brow yelled loudly. The supporting cast was fine but where were the stars? Coming up to the birch swamp, I spotted some Redpolls dipping down from the conifer stand behind. I stood still and let the birds swirl round me. Even in flight, I could see that two were ghostly Arctics. With better views, I saw that one of them was an adult male but different from the cock of the 27th. Hence there were at least three, not just two, among the 100-plus Mealies and the total of 150 or so northern finches in my patch. Marvellous!
In early January, the small finches dispersed but fresh evidence of the continued presence of other, less volatile, northern birds came from a splendid Northern Great Spotted Woodpecker – complete with truly clean-pied plumage and a short bill – on the 5th and a record count of eight Northern Bullfinches on the 19th. On the 21st, a cold month ended in a fast thaw. On the 26th, my study of an ancient flatland ended with a compulsory change of home.
What do I miss most in Staffordshire winters? Any kind of Redpoll!