Trip of a lifetime...
Words: Max HEllicar
During early 2017 I stumbled upon a feature in Bird Watching magazine advertising the opportunity for a young birder to be sponsored to attend the Cornell Lab of Ornithology's annual young birder's event. This highly sought after and prestigious event was set to be excellent, and I simply HAD to apply. This sponsorship was very kindly offered by The Cameron Bespolka Trust (www.cameronbespolka.com) for one young UK birder to attend. I had always been extremely keen to visit Cornell Lab before learning of this amazing opportunity as I have always greatly admired and respected the fascinating work of Cornell.
I sent off my application shortly afterwards and after being shortlisted to the final three UK young birders being considered, I received an email in mid-April to say that I had been selected to attend. Wow! The realisation that this was actually going to happen filled me with excitement! My mind was racing with the immense possibilities of this fantastic opportunity. I was absolutely thrilled!
Following a smooth from Heathrow to Ithaca via Philadelphia on 5th July, I was met by the birding excellence that is Chris Wood at Ithaca Airport, who kindly took me birding on arrival and scoring a horde of lifers for me, the best of which had to be a showy male Common Yellowthroat, a species which proved to be rather frequent over the coming days.
The next morning I went out with Chris and a few other young birders for an excellent few hours of birding before the official start of the event that afternoon, scoring a multitude of great birds of most which were new for me including some great warblers, namely Chestnut-sided, Blackburnian, Canada, Black-throated Blue, and Blue-winged, as well as Rose-breasted Grosbeak, Yellow-bellied Sapsucker, Baltimore Oriole, Eastern Bluebird, Eastern Towhee and Veery which were demonstrating their very impressive song.
A particularly thought-provoking natural feature of the area was the undisrupted forest-dominated landscape, which provided a nice change for the eyes compared to the increasing urbanisation in populated areas of the UK which are dominated by growing quantities of concrete and towering buildings.
We soon made our first visit to the lab and after reading so much about it, and visualising it in my head prior to the event, it was superb to actually be at the here. It did not disappoint either, being even better than I had expected! This was also the first time the whole group of 18 young birders had met – all of which were a lovely bunch of people about to become great friends, and all with the shared passion of a great deal of enthusiasm and dedication to the natural world. We visited the offices of the Lab and the Macauley Library which holds the world's largest collection of natural sound recordings, witnessing the 'behind the scenes' aspect of the work that is undertaken here. This is truly where the magic happens!! I pondered the prospect of what it must be like to work here in some of the best job roles in the world; to understand what is at the heart of our avifauna and how we can best help it to flourish – my ultimate goal in life, and an incredible thought. I was privileged to be in the company of those incredibly knowledgeable people who currently work here, and was learning a lot from them.
IMAGES: Max Hillicar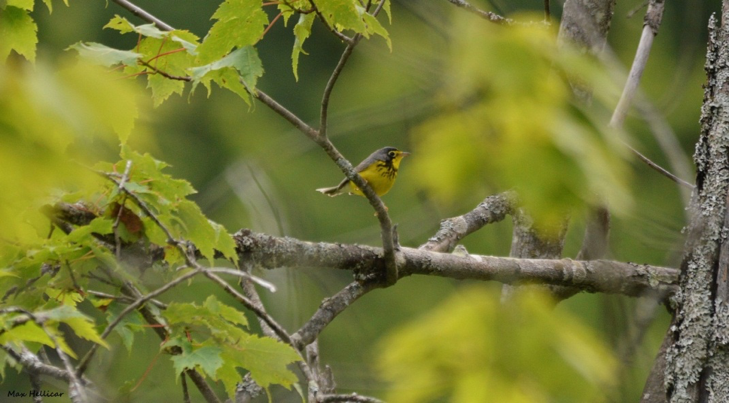 Friday morning began with a few sound recording sessions at Hammond Hill where we met by sound recording experts based at Cornell, Matt Meddler and Jay McGowan. The group split into halves, with half of us birding nearby with Ian and Chris, and the other half staying to sound record, with groups alternating after a couple of hours. This session provided an excellent opportunity to learn more about different types of equipment and how best to use them, and it was great to be taught by those who are very knowledgeable on the subject. Sound recording in general, particularly nocturnal recording, has long since been an area of ornithology which I have been keen to gain more experience in and this session provided me with greater knowledge on the topic, giving me more desire to hopefully buy some of my own gear… Group highlights over the course of the morning were Pileated Woodpecker, Louisiana Waterthrush, Mourning Warbler, Magnolia Warbler, Black-throated Green Warbler, Common Yellowthroat, White-breasted Nuthatch and Dark-eyed Junco, with non-avian highlights being Monarch butterfly and Eastern Newt.
A series of varied, enthralling and inspirational presentations and talks from highly skilled Cornell staff, researchers, lecturers, graduates and students were a frequent feature of the event, taking place at the Lab on most evenings.
First up was a fascinating talk from the Executive Director of Cornell Lab, John Fitzpatrick, on his research on the endemic Florida Scrub Jay and the previous discoveries of species new to science in Columbia. Another presentation topic was dark ecology – the analysis of data from weather monitoring radar to establish nocturnal migration patterns, an interesting concept with potential for expansion on. Other thought-provoking subjects included fieldwork and ringing experiences of researchers and students, types of technology used in ornithological research, data entry and data analysis. It was great to see how birding records can be instantly converted into scientific data with great value, a reminder that all records matter. After some mental nourishment, this food for thought left us pondering, and I feel that these talks expanded us youngsters' minds on how many superb opportunities there are out there, and how easy it can be to get involved in scientific fieldwork.
Friday evening was spent exploring the extensive and immensely impressive specimen collection of the Cornell University Museum of Vertebrates, with many thanks to Irby Lovette for this fantastic opportunity.
Initially we looked at the methods of specimen preparation which was followed by a brief look at the herpetology and ichthyology collections. We then delved into the depths of the avian collection, made up of many rows of cabinets filled with a very diverse selection of incredible specimens of a varied range of species. This 'night at the museum' really was an a really amazing experience. The extinct and endangered cabinet was especially impressive, holding specimens of Passenger Pigeon, Ivory-billed Woodpecker and Carolina Parakeet amongst others. It was incredbile to have the opportunity to see these unique species up close, but also sobering to be reminded of the effects of humans on these species which now cannot be brought back.
This was another absolutely awesome day which, as well as the whole trip, couldn't really have been more perfect.
Morning broke on Saturday 8th July and we ploughed north along side of Cayuga Lake for a full day of birding, stopping at a handful of sites en route to the northern end which produced reasonable views of Bobolink, Eastern Meadowlark, Bald Eagle and Yellow-throated Vireo. We ploughed north to Montezuma Wildlife Refuge, where we scored awesome views of Purple Martin and Tree Swallow on arrival, with Killdeer, Spotted Sandpiper and Least Sandpiper on a small area of marshland, and close views of American Black Tern, Swamp Sparrow, Killdeer, Least Bittern, Green Heron, Great Blue Heron, with Osprey and Bald Eagle touring the vicinity.
Visits to sites north of here produced a pair of Cerulean Warblers (a lifer for a fair few of us) and a Red-headed Woodpecker which came within a couple of metres of us. Captivating displays of brood parasitism was observed with singles of adult Yellow Warbler and American Redstart feeding separate Brown-headed Cowbird chick at separate locations – interesting behaviour to see. A visit to other sites in the local area resulted in reasonable views of 3 Upland Sandpiper and many Turkey Vulture, as well as an American White Pelican which we jammed in on from the road. An adult drake American White-winged Scoter, and odd July record, was seen on the way back to Cornell.
Sunday 9th was the inevitable last day of the trip which we were all rather saddened by, however we still had the opportunity to make the most of the morning's birding so we again set off early in the search of interesting and varied avifauna. Again we headed north to Montezuma, which produced both species of yellowlegs, good numbers of Great Blue Heron, Blue-winged Teal, American Bittern, Killdeer, Least Sandpiper, Eastern Kingbird and Belted Kingfisher, with very good views (for the species) of Marsh Wren scored here too. However there was no sign of the Ruff which was found the previous evening – a rarity for the area!
A return visit to nearby Howland Island proved to be productive with ten Cerulean Warblers encountered and other highlights being Eastern Wood-peewee, Great Crested Flycatcher, Ruby-throated Hummingbird, Yellow-throated Vireo, double figures of American Redstart, Yellow Warbler, Scarlet Tanager and a pair of caterwaulling Barred Owl.
It was then time to head back south to Ithaca, and it was alas time for me to part ways with the rest of the group, a sad moment. After two smooth flights, I arrived back on the other side of the North Atlantic on Monday morning, spending the day adjusting back to the British avifauna by visiting RSPB Rainham Marshes where I volunteer, reflecting on what an incredible few days I had just experienced, and suffering from colourful wood warbler withdrawl symptoms…
What I got out of the event…
…And what you can have the chance of getting out of it too if you apply next year!
The Cornell Young Birders' Event 2017 was absolutely amazing and words don't do justice to how incredible these few days were…
Special thanks go to Chris Wood, Jessie Barry and Ian Davies for their continual encouragement, willingness to share information throughout the event and skills in the field, as well everything else they did to make the event the major success it was. Many thanks also to the event organisers and everyone else at Cornell involved for their time, help and advice.
The main advice from all researchers and staff which I took away from the event was to take every opportunity… There are a lot of great opportunities out there, especially for young birders nowadays, so make the most of them. Spend as much time in the field as you can, learn tricky ID challenges, get involved with data monitoring, and gain relevant experience in the field you are passionate about...
It was a privilege to learn about career paths and ways to get into the scientific ornithological sector from those at the top of the profession which I hope to go into. The huge social aspect of the event was also a great factor of the event, making these few days a great occasion to share my passion with those of a similar age and make a lot of new friends. A particularly prevalent feature of every evening at our accommodation based on the university campus was table tennis tournaments and the grand piano which provided a great deal of entertainment.
The event provided the ideal environment for me to develop and expand my skills in a professional environment with a view to a career in ornithology and gave me the opportunity to bird with, learn from and share my own passions and interests with a great group of fellow enthusiastic young ornithologists, as well as the immensely skilled staff at Cornell. Plus I saw a multitude of new avifauna with 101 lifers and a group trip list of 139 species.
Thanks so much to The Cameron Bespolka Trust for providing the sponsorship which made this incredible trip possible for me, and thanks to Bird Watching magazine for advertising and featuring this opportunity. It was a trip which proved to be the best trip (yet) of my life and one which will be difficult to outdo…
If you're thinking of applying next year, do it! You won't regret it!
If anyone has any questions regarding the event, please feel free to contact me anytime. Twitter: @MaxHellicar1.
Max Hellicar, 2017
Max Hellicar is a young nature enthusiast from England with a particular passion for ornithology, scientific monitoring, ecology and conservation, who hopes to go into a future career working very closely with birds and data science, and is endeavouring to engage with a profession which would allow him the privilege of working every day with the subject which he is most passionate about.