Words & pics: Mike Weedon
European birdwatching trips not really supposed to be like this. One day, you are watching a Ural Owl and Chamois in the morning, a dozen close-up Brown Bears in the evening. And a couple of days later drifting along by a floating Whiskered Tern colony, with White and Dalmatian Pelicans overhead, enjoying more Squacco Herons than you can imagine. And, moored up at night, the frog and toad chorus is so loud that you can barely dream, let alone sleep.
But Romania presents a different kind of European birding, offering several different worlds within its borders.
I was there in June accompanying a group from the Ramblers Worldwide Holidays. The trip was spilt between exploring the Carpathians and Dracula country in Transylvania, the steppe, and five nights sleeping on a 'floating hotel' in the mind-blowing Danube Delta.
The bears were the highlight of the first couple of days of the trip, in the Carpathians. We visited a little hide and watched the glorious mammals emerging from the forest to come to biscuit bait. Brown Bears are always wonderful to watch. They are nervous and sensitive to each others positions and movements.
A sneaky Fox which came in to pinch some biscuits set the younger bears and the females on edge. But not as much as the appearance of a big brute of a male, massive and muscular, and already mostly in his short summer coat. One of the females flirted with him outrageously, leading him out into the forest.
But the highlights for me of the whole bear-watching experience included hearing the roars of nearby bears in the forest. A wonderfully blood-curdling instinct-jarring experience. That and the all-too-brief appearance of a mother with two tiny cubs which almost looked like they wanted to come and explore in the back of our (open-doored) hide. I had always wanted to see a baby bear, and the reality is pure cuteness.
Visiting Bran Castle, the purported inspiration for Stoker's castle in Dracula was great. There appear to be reasonable claims that Bram Stoker never actually visited this large house (castle is going to far!), but we will brush over these. But, the best bit, anyhow, was the singing male Collared Flycatcher in the trees next to the castle's rocky cliff setting.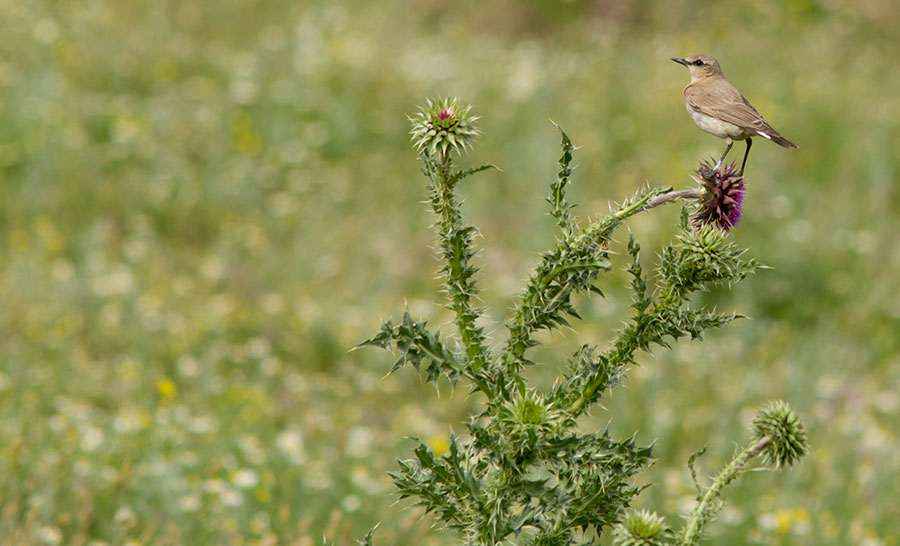 The core of the whole trip was the cruising the myriad water ways of the Danube Delta. There are 3,446km2 of this incredible delta system in Romania. Channels take you through subtly different vegetation systems and forest types. There are vast floating reedbeds, damp forests, dunes, lagoons, and richly vegetated banks. And there are masses of birds, everywhere!
The excitement started when we first boarded our floating hotel at Tulcea, the gateway to the delta. House Sparrows, of all the exotic birds you could choose, were sweeping majestically over the water by our boat and catching giant yellow Tisza Mayflies (Europe's biggest mayfly) as they emerged and battled in mating rituals. We even got excited by our first passing Whiskered Terns.
I say 'even' not because Whiskered Terns are anything other than fantastic birds. But because we were to see thousands of them over the next few days in the delta. Whiskered Terns catching insects, Whiskered Terns dragging up floating sticks and weed to build their nests, Whiskered Terns flying by, Whiskered Terns courting and Whiskered Terns at the nest colonies on their floating rafts of Water Soldiers.
Don't get me wrong, I love Whiskered terns, and it was curious (from a British birdwatcher's point of view) how when a couple of Black Terns joined one feeding flock, these grabbed all the attention; simply because Whiskered Terns are just so common there.
The Danube Delta is a massive source of food for a great variety of birds. The sheer quantities of fish, amphibians and insects to keep the vast feeding hordes going must be utterly staggering. There are feeding herons everywhere, with different tracts attracting Night Herons, Squacco Herons, Purple Herons and Little and Great White Egrets, Pygmy Cormorants and Cormorants, and of course White and a lesser numbers of Dalmatian Pelicans.
But above the water, there were great riches, too. Never have I known such numbers of Cuckoos. There is a constant accompaniment of the males' song and occasional females' 'bubbling' calls. We even saw five flying together on one occasion. Interestingly, in a land of mighty reedbeds, there were relatively few Reed Warblers or Sedge Warblers. So, presumably, the Cuckoos parasitise the much more numerous Great Reed Warblers.
There are Icterine and Eastern Olivaceous Warblers warbling, Golden Orioles orioling, Grey-headed Woodpeckers pecking wood, Hobbies catching insects for fun and Rollers round every corner.
And turning a corner is part of the joy of the delta. You may come across a basking Grass Snake, a quick splash of an Otter, the odd Musk Rat, or the nesting pond of Red-necked or Black-necked Grebes. Drift round another corner and there could be a White-tailed Eagle waiting in a tree. Or you could drift, engine off up to the hanging nest of a tiny Penduline Tit. Or there could be another Whiskered Tern.
Romania has a mixed recent history. And the Danube Delta region was not spared the curious planning and thinking of the communist era. A couple of the places we visited were like massive, ugly dinosaur skeletons in the desert. Great factories and the glassless satellite blocks of flats for the workers, which never worked and were never lived in, frozen in death as film-set ruins. Now the sci-fi tangle of metal and concrete is home to Bee-eaters and Wheatears and the lagoons hold Marsh Sandpiper, Spoonbill, Caspian Terns and Black-winged Stilts. And there are anomalous, ambiguous Collared Pratincoles flying around.
Romania's rich birdlife
For all its rich birdlife, the most amazing magic the Danube Delta had to offer came with its night life. When your 'floating hotel' is moored in the middle of nowhere in the middle of the Danube Delta, next to the largest reedbed in Europe, you are really in the heart of action.
There are barking Little Bitterns and booming Bitterns and plenty of croaking Great Reed Warblers, but, though they are not far away, these are hard to hear because of the sheer volume of frog and toad singing. The sound is overwhelming. It engulfs you, hypnotises you, snatches you with its long sticky tongue and spits you out, goggle-eyed. It is truly wonderful.
Not only birding, but flower and insect life, too!
One gets used to life on the water and its was strange even after just five nights to be back on dry land, where frogs and toads don't shout you to sleep. But with the richness of the birding, flowers and insect life of the rolling oak woods and steppe country of Dobruja meant the delta was soon not missed. We were in Lesser Grey Shrike heartland, with Honey Buzzards overhead and an abundance of the mighty Cardinal Fritillary butterfly feeding on every large purple flower.
I missed the only Levant Sparrowhawk of the trip as we were picnicking in a frested area. I had snuck off to photograph Middle Spotted Woodpecker in a beekeeper's field and perhaps the singing Icternine Warbler which was overhead. But I got trapped by a very close Red-backed Shrike and couldn't move while I tried to sneakily photograph it.
We found Spur-thighed Tortoises and Green Lizards and massive Bradyporus crickets which look like they are made of riveted bronze plates and could bite your thumb off.
There were Spanish Sparrow condominiums in giant White Stork stick nests, Little Owls peering at us over flower-filled ancient ruins, where Wheatears and tree Sparrows fed their young on caterpillars.
Out in the steppe, grazed by tiddly, cute European Sousliks (a short-tailed ground squirrel), there were Isabelline Wheatears, Tawny Pipits and a few pairs of Stone-curlew.
The glory of Romania is in the contrast between the different landscapes. It is wonderful to know that parts of the EU still preserve traditional landscapes. Some directives designed to protect habitats may have negative impacts, but at present there are great riches there. From the roar of the bears in the mountains to the deafening cacophony of amphibians in the Danube Delta, Romania provides a wealth of treats for all the senses.